While it's still the middle of the year and Halloween is technically 4 months away, we can find just about any excuse to dress up. Whether it be for Halloween, a virtual themed-party, a cosplay event, or just Tuesday, dressing up is one of the best forms of having fun. And speaking of cool costumes, The Handmaid's Tale has got to have some of the most thought-provoking costumes on TV right now. You can just tell the level of attention and detail given to each one – from the commanders', the wives', the Marthas', to the handmaids'. So if you're still feeling that post-season 4 finale high, here are 13 The Handmaid's Tale costumes that you can wear to your next party!
The Handmaids
Blood red is the main color of the handmaids' costume. It represents so many things. In Gilead, this color represents the tainted reputation of these women who, in their past lives, have lived a life of sin. Red also represents blood and fertility. If you ask me though, it represents anger on the side of these women. Complete this look with the items below.
Fertility Cloak
First and foremost, you would need a red fertility cloak which you can get from here. Wear it when you go out for walks or grocery shopping with your walking partner. Just make sure no leg is showing because it's considered immodest.
Handmaid's Bonnet
A good handmaid must always keep her head down and hair hidden (we can't be guilty of vanity now, can we?) whenever she is out. Check out this bonnet here.
Handmaids Dress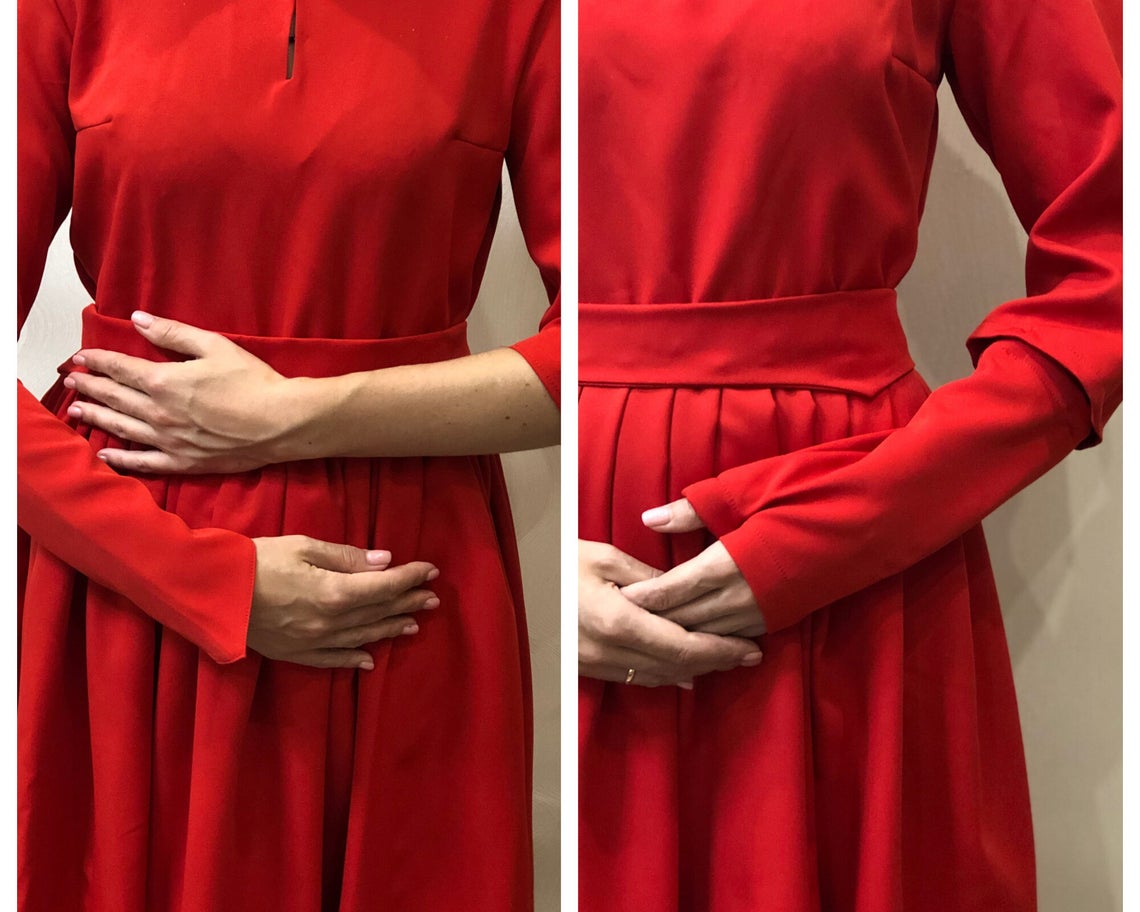 Underneath their cloaks, handmaids are still clad in red with this dress. As if they don't need enough reminders of the position they're in.
Mouth Cover
If you want to take it up a notch, this mouth cover is a haunting piece of costume similar to what the handmaids in Washington wore. Now, this is something if you really want to go all out!
Mouth Gag
This is something worn by the handmaids whenever they are tortured. If you really want to make a statement and give that shock factor, this mouth gag will give that to your look.
The Wives
The wives or the commanders' wives rather maintain a relatively respectable designation in Gilead. However, they are nothing and have no voice nor power without their husbands. Whenever they go out of line, they still get punished. I mean, they're still women, and women will always be looked down upon in Gilead.
Teal Robes
They wear these regal, teal-colored robes and outfits, signifying their subservience to their commanders. As opposed to handmaids, the wives are allowed to show a bit of leg. I guess it's one of the perks of being married to a commander, if there is any at all.
Serena Joy Hat
Another perk of being a wife is that you get to show a bit of hair and accessorize it with this hat. The downside is that it has to be in a bun because having your hair down is too sexual in Gilead.
Mittens
During winter, the wives get to wear a pair of teal mittens to keep them warm. Get it here.
The Aunts
The Aunts are infertile, post-menopausal women who train, handle, and punish the handmaids. From training them at the red center to assigning the handmaids to their designated commanders, the aunts have authoritative rank and pretty much get to do a little power-tripping (and torturing).
Aunts' Dresses
The aunts wear these olive-brown dresses inspired by the colors of the military. This symbolizes their power and authority in Gilead. These dresses have deep pockets to store their cattle prods which they often use against the handmaids. Wear it with a belt, and olive-brown hat to match.
Gilead's Children
As Gilead's most prized possessions, the girls get to wear everything pink. Check out this pink bonnet to accessorize your costume.
The Commanders
The commanders are the most powerful men in Gilead. This is probably why black is their color. It symbolizes authority, certainty, and if you ask me, darkness and evil.
Commanders Suit
As men of high-ranking positions, commanders get to wear black aiguillettes with a star and rope on one arm. Check out this cool commander's costume here!
Commanders Suspenders
The commanders' uniforms have that 50's and 60's vintage feel to them. These vintage-style button suspenders definitely complete that more laid-back look that commanders sport when they're at home or in a more casual setting.
The Marthas
This one's a bit of a wild card because people seem to overlook the Marthas. They may be Gilead's household servants, but do not underestimate them. In fact, majority of Gilead's underground rebellion network is made up of Marthas. So be a proud Martha at your next party, and wear this "I'm Not Your Martha" tee!
Related Topics
Gaming Trailers
Trailers Are Currently Unavailable.