History has records of people playing board games going back nearly to the dawn of civilization. Modern players can shop for mass-produced games, but the earliest players had to make up their own games, or at least fashion personal copies of whatever was popular.
Today, the most enterprising gamers make up their own board games just for fun. Maybe they're throwing a themed party. Maybe they just have a great idea. Or maybe they love a popular game but want to put their own mark on it. Whatever the reason, here are 14 board games made entirely by hand, that flat-out rock.
Settlers of Catan
It's been called the greatest board game of all time. One enterprising fan named "Gregory D." was so devoted to Settlers of Catan that he sculpted his own tiles and pieces out of clay, and then hand-painted them. The three-dimensional finished product is so cool, the game's publishers should hire this guy to make a Special Edition.
Cereal Killers
I can't speak to how this one is played, but Etsy seller STARartproductions claims it's a real game you can play. It looks to me more like a piece of pop art. The maker somehow recycled an old Chutes and Ladders game to come up with this. Unlike most of the other titles on this list, Cereal Killers can be purchased. The price? $165, plus shipping.
Creature Capture
There's not much information available about this card-based board game, other than that it was made by professional graphic designer Jen MacCollum. It's not available to buy, so I'm guessing it was either a personal project or a concept design, because it comes with all its own pieces and even a box. I especially like the creative way the game spaces are laid out.
Escape from Mystery Island
With a tip of the hat to Lost, Joshua Long created this survival game about an island that's ensnared inhabitants who must find a way to escape. Each player gets their own dock along the island's coastline, and the object is to be the first to reach your dock.
Harry Potteropoly
While there are plenty of versions of Monopoly to go around, but few as lovingly made as this one. Ashely, a Harry Potter fan, built, drew, and painted this game entirely by hand.
Insel Expedition
Have you ever seen anything homemade that's this detailed? That board is a work of art unto itself. Designer Marcus Günther created this game as his bachelor thesis. It's not the only island-based board game on this list, but it's certainly the most beautifully detailed.
Lord of the Rings-opoly
Alida Saxon wasn't happy with the official Lord of the Rings Monopoly game, available from Parker Bros., so she made a more authentic version of her own — as if this was a game the characters in the books and movies might have played. The game board is a map of Middle Earth, she made rivers out of the traditional railroad spaces, and she changed Chance into a Palantir and Treasure Chest into "Treasure Barrows." Boardwalk was replaced by Mount Doom. Perhaps most interesting of all, she traded the fake Monopoly bills in for colored coins. And all of this was done as a Christmas present for her brother. Now that's love.
Mushroom Kingdom
This super-slick, Nintendo-inspired game was made by professional designer Ashley Buerkett. All of its pieces and the board itself are made out of paper, and it even comes with custom-made plexiglass packaging.
Nothin' Doin'
With a subtitle like "the Game of Gainful Unemployment," you'd expect something with tongue solidly planted in cheek, though this game's chic, sophisticated design scheme might fool you into thinking otherwise. The object of the game, as created by designer Katie Hatz, is to achieve happiness without having to hold down a steady job. Three primary elements — time, money, and pleasure — must be kept in constant balance as you move around the board, encountering challenges and scenarios that could upset that balance. You win when you reach the hammock in the middle of the board. Yeah, I said hammock.
Odysseus
For a school project, Craig Moore came up with this highbrow game that's based on Odysseus' journey home from Troy in Homer's Odyssey.
Sergio
You gotta love the whimsical design of Sergio, by Lina Vaitiekunaite. You don't often see board games meant for just two people, but that's how this one was designed. Both players control custom-made lawn gnomes pieces as they circle the board three times until they reach a mushroom piece that's placed in the center. Another distinctive feature: the board breaks into four parts for storage, and instead of giving the board segments straight edges, Vaitiekunaite used jagged edges, so that the parts lock together like a jigsaw puzzle. There's even a custom package in the unusual shape of the four game board parts.
Soul Snatcher
"Party on Friday. BYOBG." A blogger going by the handle "Ghoul Friday" came up with this one for a supernaturally-themed party she threw for some friends. Get this: the playing cards are shaped like toe tags.
Tronopoly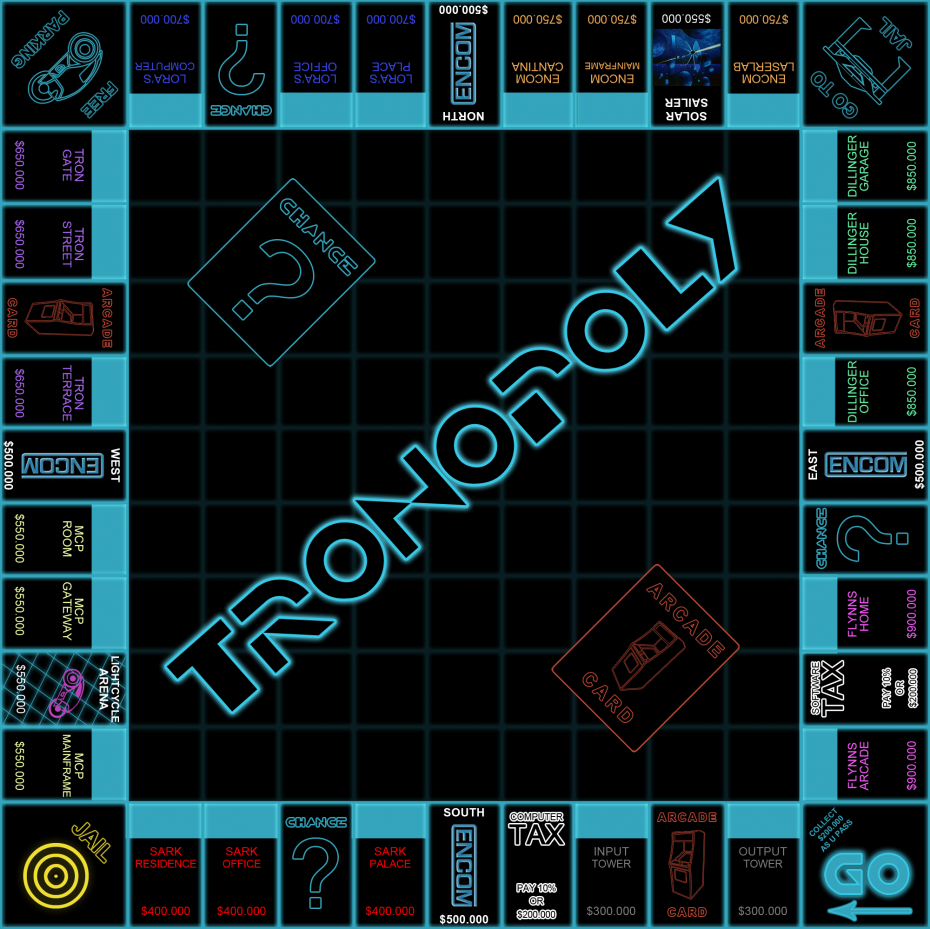 It may look like an officially licensed version of Monopoly, but it ain't. Geeky blogger Sara Hellsten worked up this bad boy in her spare time (Hellsten's got serious geek cred — she's a Java software developer) in honor of the release of Tron: Legacy. This is what geekdom is all about: expressing your love for something in pop culture by putting your own spin on it.
Venus Needs Men
Don't let its simplistic-looking design fool you. There's some major strategy required if you hope to claim victory. The game begins when up to six players choose from five alien planets. The alien races on each planet have unique abilities, so after you build spacecraft to invade Earth, you use those abilities to abduct humans. The sixth gamer plays as Earth, defending it from the multiple invasions and even scavenging alien technology to use against mankind's extraterrestrial enemies. For $30, Venus Needs Men can be yours.
Want more boardgames? Check out our crowd funded games on the Forevergeek Kickstarter Store!
Related Topics
Gaming Trailers