Man of Steel is about to reboot the legend of Superman, and the incredible visuals in the trailers has already inspired some amazing fan art. Check out these fake Man of Steel movie posters that look as good as the real thing.
Man of Steel, starring Henry Cavill as Superman, arrives in theaters on June 14, 2013, and anticipation is reaching a fever pitch. Early word on the movie is that it really is as good as it looks, but we'll reserve judgment until seeing it ourselves. Which of course we'll be doing opening weekend!
Click on any image to see higher-res versions, and follow the source links to see even more of these artists' amazing artwork.
[Poster by AncoraDesign]
[Poster by Andrewss7]
There are several minimalist interpretations represented on this page. This is the first. [Poster by deathrs5]
[Poster by Diamond Design HD]
[Poster by Haydenyale]
[Poster by inertianationxd]

[Poster by jbryant1126]
[Poster by JMattisson]
[Poster by JSWoodhams]
[Poster by JustHunt]
[Poster by le0arts]
[Poster by Medusone]
This one's my favorite. Want a copy? It's available to buy as a print. [Poster by Paul Shipper]
This one was made as a tribute to the work of the great Drew Struzan, who painted the posters for all of the Indiana Jones movies and several Star Wars films. [Poster by Sahinduezguen]
I mostly avoided nods to the Christopher Reeves films for this collection, but this one — which has a little wink in the tagline — is too well done to ignore. [Poster by shokxonestudios]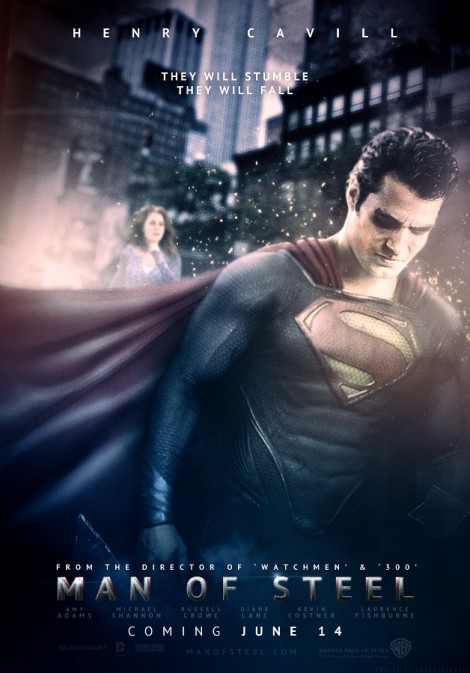 [Poster by SkinnyGlasses]
[Poster by stesmith]
You have to zoom in on this one to see just how great the texturing work is. [Poster by Tom Langley]
[Poster by Visuasys]
[Poster by Visuasys]
Which one is your favorite?
Related Topics
Gaming Trailers