The term nerd is often used, but in varying ways depending on who's saying it and in what context.
Officially, nerd has two meanings according to Oxford Dictionaries.
The first one: "A foolish or contemptible person who lacks social skills or is boringly studious".
The second one: "A single-minded expert in a particular technical field".
I think we'll all agree that the when we say nerd, we may refer to a mix of both definitions. In any case, if you're proud to be a nerd AND you can laugh at yourself, here are some nerd sayings and jokes that will give you a chuckle or two.
Nerd sayings and quotes
1. "If you like nerds, raise your hand. If you don't, raise your standards." ? Violet Haberdasher
2. "Star Trek?" I asked her. "Really?"
"What?" she demanded, bending unnaturally black eyebrows together.
"There are two kinds of people in the universe, Molly," I said. "Star Trek fans and Star Wars fans. This is shocking."
She sniffed. "This is the post-nerd-closet world, Harry. It's okay to like both."
"Blasphemy and lies," I said."
? Jim Butcher, Ghost Story
3. "Why is being a nerd bad? Saying I notice you're a nerd is like saying, 'Hey, I notice that you'd rather be intelligent than be stupid, that you'd rather be thoughtful than be vapid, that you believe that there are things that matter more than the arrest record of Lindsey Lohan. Why is that?"
? John Green
4. "Charm is the ability to insult people without offending them; nerdiness the reverse."
? Nassim Nicholas Taleb
5. "That's the wonderful thing with nerds: they're enthusiasts. Not having a life means you get to love things with a passion and nobody bothers you about it."
? John Burnside, The Glister
6. "My best definition of a nerd: someone who asks you to explain an aphorism"
? Nassim Nicholas Taleb
7. "So you're a little weird? Work it! A little different? OWN it! Better to be a nerd than one of the herd!"
? Mandy Hale
8. "No one messes around with a nerd's computer and escapes unscathed."
? E.A. Bucchianeri, Brushstrokes of a Gadfly
9. "A true nerd knows the difference between 2-D and 3-D, and chooses 2-D every frickin' time!"
? Ryohgo Narita, Durarara!! Saika Arc, Vol. 1
10. "I will take a serious approach to a subject usually treated lightly, which is a nerdy thing to do."—Benjamin Nugent, American Nerd: The Story of My People
Now for something more visual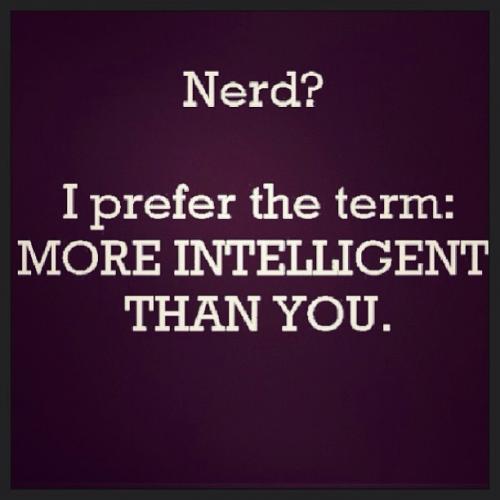 And I leave you with this.
What do you think of these nerd sayings, jokes, and quotes? Are they accurate, or are they too stereotypical?
If you've got your own to share, let us know in the comments.
Gaming Trailers