Some folks take their PCs a little more seriously than others. If you think you've got pretty cool gaming setup, you might want to re-evaluate in light of these god-tier PC gaming battlestations.
Did you hurt your feet when your jaw dropped on it? This astounding, fully-custom PC gaming battlestation was built by Jah Blub inside of a desk. It's not the last in-desk computer that we'll see, but it is one of the most impressive. It in fact includes two computers, one for gaming and one for use as a server. While this particular build isn't really about specs, the gaming machine features an Intel i7 4770K overclocked to 4.5Ghz and 2 GTX 980s mounted on a ASRock Z97X Fatal1ty motherboard. The liquid cooling setup is custom built from Alpacool parts and Mayhems red concentrate for coloring with be quiet! fans to keep the decibels down.
Not every desk gets its own website, but this one does. Well-known modder L3p has been working on the same desk for years, giving his amazing custom setup annual upgrades to keep with the times. This year's version includes an Intel i7 6950X at 4.3Ghz, a Nvidia Titan X and a custom-built water cooling solution house in a glass-topped, wall-mounted desk.
Who needs cases? GoodAtIt's MAXxPlanck V2 build is entirely wall mounted, taking advantage of a carefully planned water cooling layout to keep everything running smoothly. Take special note of the barber pole reservoirs and custom-built red lighting. For more detail, get a load of the build log.
Deblow's battlestation, named Project Alternate, is meant to look as good on as it does off. The custom desk sports an Intel i7 5820k under the hood and two ASUS R9-295s. You can check out the video build logs for Project Alternate here.
Another entry on this list from modder L3p, this time from his company Red Harbinger. This glass-topped creation takes a red theme, with an inventive cooling solution and a unique looking quad reservoir layout.
Vannatter's Tech Man Cave battlestation extends beyond the five monitors and RGB mood lighting. It also includes a biometric lock to enter the room, a mini-fridge, a drone and a massive comic collection.
Browntownexpres's battlestation setup sports a full five screens. The three most obvious ones are used for main computing. The top-mounted television is used for watching movies from bed. The tiny side display is used for miscellaneous extra information. Also note the bottle of Silvovitz in the background, one of the grossest liquors known to man.
RawkinIt's battlestation adopts a similar layout as the above, with three primary monitors and a fourth "upper deck" screen for playing media files. The beautiful setup is run by a pair of GTX 970s in SLI.
Herrodair's unique monitor setup isn't the only attractive thing about this battlestation. Note the dual ultrawide monitors (Dell U3415Ws) on the edges that wrap around the user to create a panoramic display. The machine runs an Intel i7 4790k, 16GB 2166Mhz RAM and a 980 Ti Hybrid.
This is a simplified version of C0mplex's current battlestation, which now features six monitors and several custom cases.
This rainbow-themed battlestation by noiseotos is based on a balance between clean, natural design and effective use of RGB LEDs. The triangle-based design mounted on the wall is called Nanoleaf lighting, and a GitHub script and iPhone app can create custom colored "scenes" to match the user's mood and decor.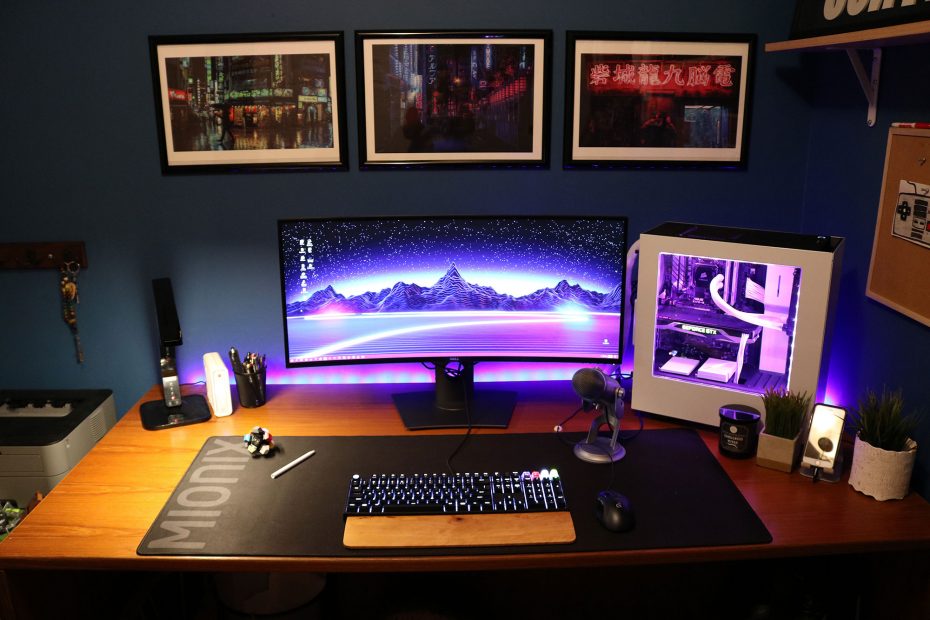 You don't need a dozen monitors and a custom-built desk to create a satisfying battlestation, as mechacontext's cyberpunk setup shows. Sometimes all it takes is effective use of LED lighting, a good color scheme and a clean layout. Take note of the fidget ball on the left: it's made from mechanical keyboard switches soldered into a ball.
There's nothing like a cyan and pink color scheme to get your A E S T H E T I C going. RetroMads' setup is bathed in cyan and pink LEDs and run off a GTX 1080 FE and an Intel i7-5820K with a Corsair K70 and Razer Death Mamba for input.
While the enormous 4K television at the center of cheif3630's battlestation is attention-grabbing, it isn't even the most impressive part of this setup. That honor goes to the clear acrylic PC case near the window running an Intel i7 6700K overclocked to 4.8 Ghz and a EVGA GTX 1080 FTW.
This extraordinary battlestation by Piloth includes four monitors, 18 fans, a tube amplifier and some bad ass posters.
Psychovinny's battlestation includes ultrawide monitors, with one unconventionally mounted in portrait mode. The small DAC stack is made from a Schiit Modi 2 Uber DAC and Schiit Magni 2 Uber Amp. The computer is based on an Intel i7 7700K and a GTX 1080 Ti Hybrid.
Primate541's setup includes two monitors mounted top-to-bottom and an enormous third screen for media playback. The setup is based around a i7 4790K at 4.6Ghz and GTX 1080 Ti overclocked to 2050Mhz.
HamishGray's comparatively low-key setup is built specifically for a realistic flight simulation experience. The smaller monitors are specifically for instrument panels, which the three main displays create immersive, panoramic "cockpit windows" while in-sim.
If ZestyMilk's battlestation makes you think of JP's office from Grandma's Boy, you're not the only one. This battlestation has audio controls and a leather mousepad built into one arm with a gamepad mounted on the other. The monitor arm can be automatically lowered with an actuator, bringing it into position for sitting upright.
Not every battlestation needs four monitors, a custom-built desk and a $10,000 investment. Cloudburzt's simple PC gaming battlestation uses coordinated cyan LEDs and an atmospheric desktop background to create a chill vibe for gaming.
Sometimes a good PC gaming battlestation layout is about cohesive, clean design. Evexium's desk uses the rule of threes to create a delightfully expansive and aesthetically pleasing triptych.
djhoulihan's stylish battlestation is built off a high-octane PC system, sporting an Intel i7 6900K and four (count'em) Nvidia GTX 1080 graphics cards.
Nestledrink's 2017 update to his long-running PHOEBE workstation includes a an Intel i7 6700K and GTX 1080 tucked away in a tiny Ncase M1 with a tempered glass mod.
TheLegacyIsReal's classy triple-monitor battlestation is based on an Intel i7 4790k overclocked to 4.7Ghz and a GTX1080 FTW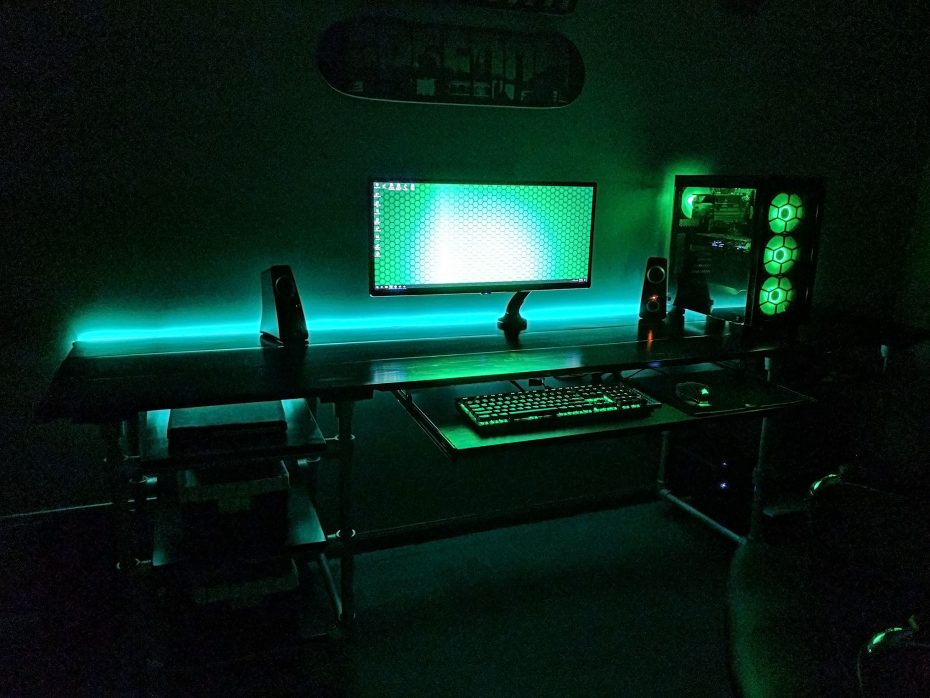 Flash specs and custom mods aren't everything. Sometimes you just need a simple setup with some good bias lighting, as cookie_400's battlestation shows.
You might also like:
Related Topics
Have something to tell us about this article?
Let us know
Gaming Trailers
Trailers Are Currently Unavailable.