I'm sure you've seen those awesome "untooned" images, where some talented digital artist created a photo-realistic version of a famous cartoon character, depicting what they would look like if they existed in real life. Here's a collection of the very best of the best.
There are tons of untooned images out there, so I used the following criteria for selection:
They must be high quality, high-res images.
The depiction must match or come close to the true proportions of the cartoon character.
It must be photo-realistic. Nothing too cartoony.
With one or two noteworthy exceptions, no video game characters or anime. Cartoons only.
With no further ado…
Agent P (Phineas & Ferb)
[Source]
Alfred E. Newman (Mad Magazine)
[Source]
Barney Rubble
[Source]
Bart Simpson
[Source]
Beavis
[Source]
Brain (Pinky & the Brain)
[Source]
Bugs Bunny
[Source]
Butthead
[Source]
Charlie Brown
[Source]
Fred Flinstone
[Source]
Hans Moleman (The Simpsons)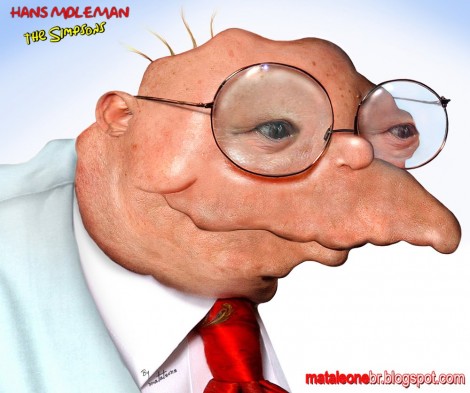 [Source]
Homer Simpson
[Source]
Jessica Rabbit
[Source]
Link
[Source]
Mario
[Source]
Mr. Burns
[Source]
Moe Szyslak (The Simpsons)
[Source]
Mr. Natural (by Robert Crumb)
[Source]
Naruto
[Source]
Patrick Star (Spongebob Squarepants)
[Source]
Peter Griffin
[Source]
Pikachu
[Source]
Popeye (old)
Sideshow Bob (The Simpsons)
[Source]
Snoopy & Woodstock
[Source]
Spongebob Squarepants
[Source]
Squidward Tentacles
[Source]
Stan Smith (American Dad)
[Source]
Stewie Griffin
[Source]
Timmy Turner (Fairly Oddparents)
[Source]
Wimpy (Popeye)
[Source]
Wolverine
[Source]
Zoidbergg & Bender
[Source]
Related Topics
Gaming Trailers