1. Maid Dreamin
Maid Dreamin is the mother of all maid cafes. It is a mega-chain with branches all throughout Tokyo. It's also a good "starter cafe" if you want to visit a maid cafe but are unsure of how deep you want to go. You can also browse through their popular maids online here.
Maid Dreamin has a rather aggressive marketing strategy, with cute girls in maid costumes standing near the main intersections, handing out flyers.
More information on Maid Dreamin can be found here (website in Japanese)
2. Cos-cha (School-Themed Maid Cafe)
Maid cafes don't always just have 'regular maids.' There is a whole slew of themed maid cafes in Tokyo, too.
Cos-cha Cafe is a crowd favorite, famous for elaborate group costumes. One variant, "school swimsuit day," is especially popular.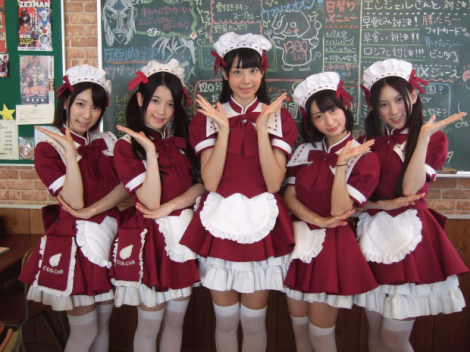 Customers can also pay extra to drink a special "concoction" mixed by a maid and, if they fail to drink it, they are given a playful slap in front of everyone in the room.
More information on the Cos-cha Cafe can be found here (website in Japanese).
3. Hibari-Tei (Crossdressing Cafe)
You might have noticed that a fair number of the cosplay cafes in Tokyo all seem to have a gimmick. In such a competitive market, the gimmick really helps them stand above the competition.
The gimmick of Hibari-tei cafe is the fact that all of the maids are men wearing wigs, makeup, and maid costumes. Basically, it is a maid cafe with male maids (instead of the typical female maids/male butlers breakdown).
The owner of Hibari-tei claims the shop is such a hit because the male customers feel more relaxed being served by a man, and can easily talk to the maids. Apparently, about 60 percent of the clientele at Hibari-tei are men.
More information on the Hibari-tei Cafe can be found here (website in Japanese).
4. Nagomi (The "Little Sister" Cafe)
The Nagomi Cafe is exactly what it sounds like, maids dress up in childish, frilly clothes and call customers "big brother." It appeals to a certain type of person. The maids are supposed to change their moods frequently, switching from energetic  and bossy to ice-cold and uninterested.
More information on the Nagomi Cafe can be found here (website in Japanese).
5. Swallowtail Butler Cafe
"Enough with the maid cafes," you might say. "I want a Butler Cafe!"
You're in luck. The Swallowtail Butler Cafe has been around for years and is the perfect place to go if you want to be pampered like a princess.
Located in the heart of Ikebukuro, Swallowtail employs a variety of butlers for every "type." They have short and cute, tall with long hair, men with glasses, and attractive middle-aged men… and are very proud of this ensemble of butlers.
While you are not allowed to take photos inside the cafe (and must reserve a seat ahead of time online), you can always buy photo cards, DVDs, and other merchandise from your favorite butlers right across the street.
More information on the Swallowtail Butler Cafe can be found here (website in Japanese)
For more on 'weird Japan,' check out 10 Socially Awkward but Likable Anime Characters
Related Topics
Gaming Trailers