If you don't listen to geek podcasts, you can be forgiven.  After all, there is no shortage of audio entertainment these days.  Between terrestrial radio, satellite radio, and the virtual cornucopia of options streaming from our phones and mp3 players you'd be hard-pressed not to find something that piques your interest.  The glut of options has, naturally, resulted in quite the bevy of niche programming, including innumerable podcasts made by and for every flavor of geek.  Here are five geek podcasts that every geek should listen to.
Remember Chris Hardwick?  Right.  That Chris Hardwick.  From Singled Out on MTV.  Yeah, he is the King of the Nerds now. And his geek podcasts will drink your milkshake. If you, like many others, lost track of Hardwick's career after his shenanigans with Jenny McCarthy you wouldn't know that he spent years on the now-defunct G4/TechTV covering technology, comics, comedy and other geek staples.  Hardwick is legit, and his podcast is must-listen material.
Matt Smith of Dr. Who fame has been on.  More than once.  So has Bioshock creator Ken Levine.  Bill Nye, the Science Guy?  Yep, he's been a guest.  Brie Larson talking about obsessing over Animal Crossing? Absolutely.  George R.R. Martin live from Comic-Con?  Available for download at your convenience.  Hardwick has even managed to secure Harrison Ford's first appearance on geek podcasts anywhere.  Hardwick's show is, in a word, awesome.  Made by a geek for geeks, the Nerdist podcast is the gold standard of geek podcasts.
Who would have thought that Kevin Smith would ditch movies in favor of creating a network of geek podcasts?  Not many of us.  But that is exactly what has happened, and SModcast was his original foray into the world of DIY digital radio.
The premise is insanely simple: Kevin Smith and Scott Mosier (his longtime friend and producer) talk about whatever they want to talk about.  No limits.  No format. No censors.  It is, to put it mildly, insane.  Fans of Smith's movies will be in heaven, and fans of comics, Star Wars, moviemaking, comedy, gross-out humor will also have plenty of reasons to listen.
Smith's geek podcasts are splintered into various shows with specific topics as well.  There's Fatman on Batman, in which Silent Bob talks all things Caped Crusader with everyone from Paul Dini of Batman: The Animated Series to legendary comic book scribe (and general wacko) Grant Morrison, who just completed one of the most epic and transformational runs in the history of Batman comics.  There's also Jay and Silent Bob Get Old, in which Smith and Jason Mewes give a detailed oral history of the View Askewniverse , The ABCs of SNL in which Smith and Jon Lovitz detail one of the most important eras of Saturday Night Live history, and several other shows that fall under the umbrella of the "SModcast Network."  When it comes to geek podcasts, Kev has you covered.  Listen and learn.  Snootchie Bootchies!!
Geek podcasts encompass a multitude of topics, including comics.  For my money, the best comics geek podcast is 11 O'Clock Comics.  Vince B, David Price, Jason Wood and Chris Neseman wax rhapsodic on a weekly basis and have some of the most in-depth, bizarre and entertaining discussions about funny books I've ever heard.  This is not a podcast for the faint of heart.  Sure, the guys discuss many of the day's popular books, but they also get deep into indie, underground and classic comics as well.  Vince B, in particular, is a huge fan of Avant-garde underground comics, and his unmistakable joy in the perverse, profane and horrific makes for laugh-out-loud listening.  11 O'Clock Comics is a podcast every geek should listen to.
While not necessarily falling under the official title of geek podcasts, WTF with Marc Maron is definitely worth a listen.  The long-time standup comic should be familiar to everyone who had Comedy Central back in the early 1990s.  Maron's standup clips were everywhere, and he even had a run as host of the seminal Short Attention Span Theater.  An alternative comic before "alternative" was a thing, Maron has been at it for years.  Biting, sarcastic and self-obsessed, Marc Maron's uniquely confessional brand of comedy has spurred into the WTF podcast to critical and popular acclaim.
Hour long interviews with comics, musicians, actors and other pop culture icons (and unknowns); WTF is equal parts informative and entertaining.  Maron's guests are a veritable Who's Who of the entertainment world, which includes geek circles.  His interviews with Simon Pegg, Nick Cave, Mark Duplass, Conan O'Brien and legends like Mel Brooks and Carl Reiner are fascinating.  He's talked with a horde of SNL cast members, including a recent conversation with Bill Hader (who we all know does the best Tauntaun impression EVER) and past interviews with Amy Poehler, Seth Myers and Rob Riggle.  If you like indie and geek-centric comedy, Maron's WTF should definitely be on your iDevice.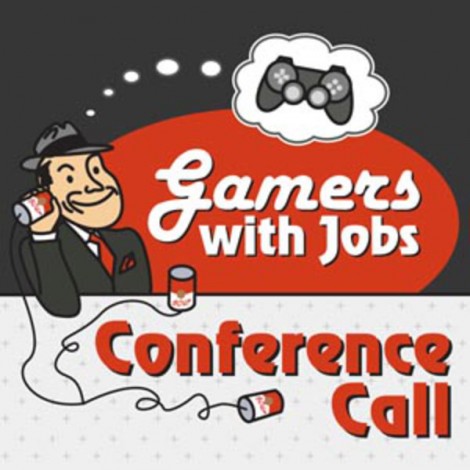 Are you an aging geek?  In your mid-30's with a job, a mortgage and a couple of kids?  Do you still steal a few hours a week for video games?  You're not alone, and there are geek podcasts out there just for you.  The Gamers With Jobs Conference Call is a podcast with a slightly more mature bent than most podcasts geeks should listen to.  Dedicated to all things video games and featuring a rotating cast of hosts and guests, Gamers With Jobs Conference Call breaks down the world of mainstream and indie video games from a grown-up geek perspective.  Equal parts information, entertainment and insightful editorializing, Gamers With Jobs Conference Call is a podcast geeks should listen to regardless of age.
Related Topics
Gaming Trailers