We've shared geeky drinks and drinking games, so now it's time to make sure you have the perfect drinking glasses. Our picks are sure to add more geeky flavor to your party, or even if you're just chilling alone or with a friend or two.
DIY Ood Brain Cocktail Glass

Let's start with a bit of DIY, courtesy of Vohn's Vittles. Any Whovian who would like to serve cocktails with aplomb needs to roll up his sleeves and make this glass. While this DIY project may take some time and effort, you'll know it's worth it when you hear the Ood singing after a drink or two…
Periodic Table Beer Glass

You know you won't go wrong with anything related to the Periodic Table, so this beer glass is perfect for any occasion. Details:
Image on glass will be translucent, not opaque
Standard pint glass, holds 16 US oz.
Lead free glass
Dishwasher Safe, but to preserve the print quality, hand washing is recommended
You can get one here for $18.
1UP Shot Glass

One-up everyone around the table with this shot glass. Just make sure you know your limits. Sold by LeFayEngraving, this shot glass design is but one of many. You can even choose your own design if you wish to. And, it costs only $9.59. Perfect for a night of drinking games.
Polyhedral Dice Gamer Sandblast Etched Shot Glasses

Tabletop gamers will want no other shot glass. Whether you're hosting your regular gaming night, or you're having a special party, these polyhedral dice shot glasses will add to the party spirit. You can get a set of six for $52. Not a bad deal.
I need an html break Drinking Glass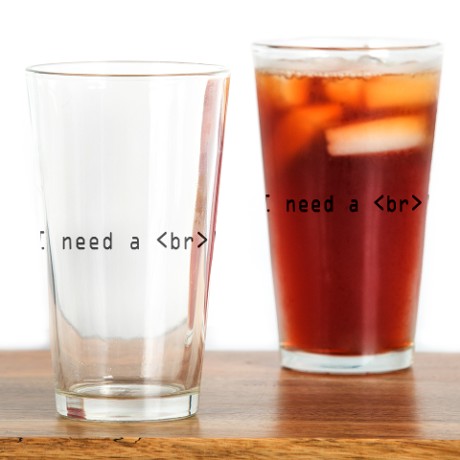 For developers/coders, this beer glass will add to the enjoyment of sipping the perfect brew. Whether you drink commercial beer or home-brewed beer, the glass is the perfect vessel. Just like the Periodic Table glass, this one costs $16 a piece.
Star Trek StarFleet Command Logo Hand Etched on Beer Mug or Pint Glass

I don't know about you, but I can already feel that satisfaction of holding a chilled beer mug, anticipating the first gulp of my favorite beer. If you're not the beer mug type and you prefer pint glasses, you can also have that. For $13, this glass will do its job just fine. Get it here.
Stormtrooper tumbler and shot glass set

These may very well be the reasons Stormtroopers never hit their targets. They probably have a stash of these tumblers and shot glasses, drinking everyone else under the table. You don't have to be a Stormtrooper (or have awful aim) to enjoy your poison of choice in these glasses and shot glass, though. Handpainted and heat-sealed, the design on the glasses should last for a long time as long as you hand wash them. Get them for $12.79.
If you like drinking:
Related Topics
Gaming Trailers