Your doormat is the first thing your visitors see. Don't you want to make sure they know where your geek loyalties lie? Make sure you have the perfect doormat – and have some fun while you're at it.
Awesomely Geeky Doormats
Choose One DIY Doormat
Let's start things off with some DIY. Give people at your door a choice: enter or escape. Hopefully, it will chase the unwanted ones away.
Learn how to make this doormat here.
Star Trek Emblem
Show off your colors with this Star Trek emblem mat. Visitors will have no doubt where your loyalties lie. This is also a DIY mat, so you even have bragging rights about your dedication.
Learn how to make this doormat here. You'll even find instructions for other geeky doormats.
Computer Keyboard Doormat
As if people didn't spend too much time on their computers already…
Still, this doormat is a pretty cool way to welcome your guests, especially with the letters rearranged. You have the added bonus of getting under your OCD friends' skins.
Get the Computer Keyboard Doormat here.
Super Mario Bros Dot Design Mat
One up your gamer friends with this Super Mario Bros Design Mat. You'll be the envy of everyone for sure. It's a little difficult to find this mat, as it is made up of squares with the different designs, so be quick about it. Alternatively, you can show the design or concept to a local mat maker OR do some DIY.
Get the Super Mario Bros Dot Design Mat here.
Space Invaders Alien Invasion Doormat – Thumbs Up
Take a walk down memory lane when you played classic video games like Space Invaders and Asteroids. The good old simple days when you didn't have to worry about upgrading to the latest, most expensive graphics card.
This is no simple mat, though, as it has motion sensors embedded. Whenever someone's at your door, the little aliens light up from one side to the other. Be ready for praises all around.
Get the Space Invaders Alien Invasion Doormat – Thumbs Up here.
16-Bit Game Controller Doormat
Another gamer-centric doormat, this one has been making the Internet rounds, and rightly so. One look at the doormat and any gamer would want it on every door – even inside the house!
You can even have a party where people have to press the right buttons…oh, fun.
Get the 16-Bit Game Controller Doormat here.
You Rang the Bell Doormat
Windows nerds, this is the perfect doormat for you. Especially if you tend to take your time answering the door. No explanations needed for taking more than 5 minutes. The doormat says it all.
Get the You Rang the Bell Doormat here.
One Small Step Doormat
You may never set foot on the moon, but you can play pretend with this doormat. You can even step on it every time you achieve something, and tell yourself, "One small step…"
The One Small Step Doormat is from ThinkGeek, but it's not available at the moment although they say it should be back by 1/8. Leave your email to be notified when the product becomes available.
Darth Vader Doormat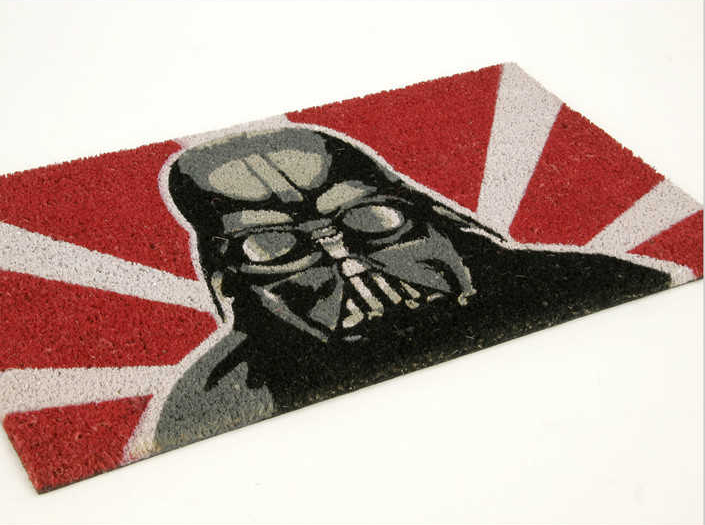 Scare unscrupulous people away with this Darth Vader doormat. While the background has a hint of fun in it, there's nothing fuzzy and cuddly about Darth Vader himself.
Get the Darth Vader Doormat here.
You Shall Not Pass!
If Darth Vader doesn't do the trick, I am pretty sure Gandalf will. He'll protect your home not only from Balrogs, but from humans as well.
This mat is available in different sizes, thickness, and material.
Get the You Shall Not Pass! Doormat here.
Bigger on the Inside
And, for the best of the lot, we have the TARDIS doormat. If you're a hoarder, and you've got so much crammed into your house you can be featured in the reality TV show Hoarders, then the doormat applies to you.
Now if only you can travel in time and space…
Get the Bigger on the Inside mat here.
Which doormats do you like best? Do you have other awesomely geeky doormats you want to share? Let us know in the comments.
More things you'll want to collect:
Disclosure: Amazon links are affiliate links.
Related Topics
Gaming Trailers