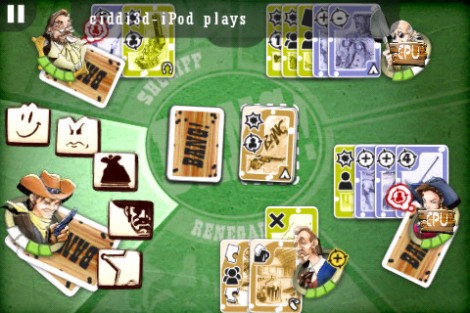 Many weeks ago we reviewed Bang! The Bullet. This app never made it to the top list of Apple apps for download but among a huge niche of board game geeks, Bang! is definite favorite.
Recently, Palzoun & SpinVector released a much needed update that not only incudes the Dodge City Expansion set, it also put in the much needed online multiplayer that players from around the world were clamoring for. Previously, Bang! only had pass on play for some semblance of multiplayer but this turned out to be rather tedious and impractical.
To sweeten the deal even further, the app now sells for only USD $3.99, a full dollar cheaper than when it went on sale earlier this year.
For those unfamiliar, Bang! is a spaghetti western game where each of you take the role of either a Renegade, Outlaw, Deputy or the Sheriff. Depending on your role you each have specific missions to accomplish: outlaws must kill the Sheriff, Deputies must protect the Sheriff, while the Renegade wins by being the last man standing. All identities, save the Sheriff are hidden from one another and you try to discover everyone's roles by the different card actions you can do. Dodge City introduces green cards to the play deck. Green cards must be placed down as equipment cards but only have a one time use in the succeeding turn. That means that if you have green cards that allow you to shoot people, you can use these apart from your regular Bang! cards.
Online multiplayer is included in this update but it isn't done through the Game Center — rather you need to create a Bang! account from an external website and sign in. Other than that small annoyance, the core multiplayer is fun.
Bang! also includes achievements to unlock during play. They're really nothing new, but add to the "oh so I did that and got an achievement" discovery of the game. Sadly, no new characters are in the expansion — you will need to unlock them separately.
All in all, Bang! HD sweetens the deal by adding a complete expansion pack, achievements and online multiplayer and subtracts one dollar from the app. Those are more than enough reasons to get one of the best board games ever made.
Related Topics
Gaming Trailers