Thanksgiving – is all about football, baby. Though.. there are particular Thanksgiving movies out there that may get burn on the family room's big screen over the Detroit Lions.
The perpetual goal for Thanksgiving Day: Find some neutral conversation points that won't set anyone off prior to the turkey carving!
Once you've cleared the path of suppertime M18A1 Claymores, the second hurdle is preserving the peace after the dishes have been washed, dried and put away. One option: is non-doze-worthy Thanksgiving flicks to view during that gawky time before dessert when everybody is, pretty much, comatose.
Watching a motion picture can be renewing. It gives you the chance to unwind, disconnect, and have a fun time.
Cinema therapy, for instance, is a type of supplemental therapy (e.g. music, art, dance therapy, etc) that involves scenes or entire films to help individuals face fears. It assists them in becoming aware of their fears so that they can work on surmounting them. The therapy was formed and streamlined by Dr. Gary Solomon, the first to publish on using films as therapy.
Bet'cha didn't know movies had such a powerful effect on the psyche, huh?! Yeah.
The following – are the top ten Thanksgiving movies we could muster up. Basically, all the movies for Thanksgiving we'd watch!
So, hold onto your belts . . . as we present to you the ten best Thanksgiving movies.
10 Best Thanksgiving Movies
The Ice Storm contains numerous scenes of astonishingly icy imagery, awesome reflective shots and an overall freshness that makes this subtle, conversational movie crack and pop like Rice Krispies and milk in your mouth. Like the monumental ice storm impending over the town, the film has a dazzling sense of boding tragedy or doom.
With so many outstanding characters, this movie just wasn't long enough to wallow in all of them. It's rare that a Hollywood picture captures in great detail the awkward transitional phases for both adults and children. Not only does it lack a single superfluous scene, it too earns its ending with a combo of naturalism and precision rarely observed in cinema.
We think we have fled home, however, we persist under the family spell. It often waylays us on holidays when throwback images, fond moments feelings, grievances and feelings come back into our consciousness. We can never hide it away in a closet or toss it out. Family ties connect us to the persons who shaped us with their slights and their anger and their love. We keep record, and our feelings about them get bigger the longer they are held inside.
That is what has happened to Katie Holmes (April Burns). Peter Hedges (who penned the screenplays for About a Boy and What's Eating Gilbert Grape) wrote and directed the film. He is a maestro of character-driven pictures, and this one corroborates that reputation.
If you have read anything about the creation of Krisha, you already know probably that direct/writer/co-star Trey Edward Shults shot the whole film in one location (his family's house), implemented cast members of his real-life family and filmed the entire movie somehow in just 9 days! That yarn can be tricky though, as Krisha is not simply another cozy homespun family drama.
Shults' lengthy take, well-choreographed camera motion brilliantly captures the turbulent internal state of the movie's title character (Krisha Fairchild, Shults' real life aunt) and exhibits a level of craft that would generally seem inconceivable for a lo-fi indie. Just a solid picture – all around the board.
"Hannah was a character neither Mia nor I understood, at the start, and at the finish," director Woody Allen admitted. "We could never figure out whether Hannah was the bulwark of the family and the spine who held everyone together, or whether Hannah was not so nice … Mia looked to me for guidance and I could never give it to her."
He couldn't have hit it on the nose any better, because we're still trying to figure Mia out – in 2019 (almost)! Farrow, brings sincere mystery to a fostering figure who may not be as saintly as she appears. Between her and Caine, when you go to put on movies for Thanksgiving make sure to include this. Seriously, don't forget it.
Addams Family Values is a comedy classic that'll pretty much have every family member (yourself, included) busting chuckles out like a second grader after someone breaks wind. Wednesday's turn as a vindictive Native American at summer camp is a splendidly funny assault on futile accordance – straight like 'dat.
"Years from now my people will be forced to live in mobile homes on reservations. Your people will wear cardigans, and drink highballs. We will sell our bracelets by the roadsides, you will play golf, and enjoy hot hors-d'oeuvres. My people will have pain and degradation … And for all these reasons I have decided to scalp you and burn your village to the ground." Ha, ha it gets no better than that.
Pushing 50 years after it first aired, this Thanksgiving classic is still relevant. A Charlie Brown Thanksgiving has been one of the most-viewed season episodes since the 70s, and with logical reason … it's bleeping awesome! It has it all: from heartfelt and emotional bits we all adore (e.g. Linus' monologues) to really comical moments (i.e. the opening scene with Lucy tricking Charlie into kicking the ball, or Woodstock and Snoopy setting the table for the celebration).
What makes the special so endearing and great is the fact that it journeys us to a simpler time. It displays to us the innocent and simplistic way of discernment and looking at things minus the complications and drama that (generally) comes with adult life. A Charlie Brown Thanksgiving warms your heart simply and just puts you in the best mood to have yourself a jubilant and harmonious Thanksgiving.
When it comes to movies about Thanksgiving – the Thanksgiving visit of Jack Sadelstein's identical twin sister, Jill, is the epitome of wholesome holiday family fun.
Jill, turns Jack's normally tranquil life completely upside down, maddening him with her passive-aggressiveness and neediness … and we love every (zany) moment of it. You may nearly bust a gut laughing, so, make sure you save a little stomach room after dinner so that you don't burst out Thanksgiving food everywhere!
When watching this film, you can't help to notice the similarities to your very own family – right? The folly, the fights, like everything! We heart, as well, the atmosphere the film creates: the hustle and bustle of the holiday, the anticipation of returning home during the drabness of the season's weather, the problem between the lonesomeness and yet the quiet placidity of waking to the initial moonlit powdering of snow.
We laughed so hard during this picture but, largely when Robert Downey Jr. was on screen! It is not to say that Holly Hunter did a bad job, she was rather good (as was everyone else) however Downey had this certain presence on the screen and virtually stole the show.
When it comes to movies for Thanksgiving, you're simply just not gonna beat Free Birds. This film is downright amusing and likable.
Jimmy Hayward, director, is on double duty – pulling off a few comical voices, including the president (who sounds astoundingly like Bill Clinton). George Takei gives an uproarious voice to S.T.E.V.E, the time machine, too. After you devour the bird . . . throw on Free Birds.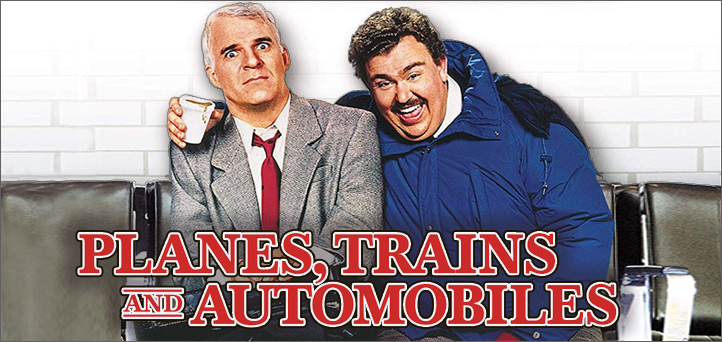 Perhaps, the best road trip (and, Thanksgiving) movie ever made? Without question.
The 80s, as a decade, produced lots of reasons why it should be mentally disregarded (i.e. the hair and clothes, alone), but one super thing to come out of that period was a slew of John Hughes films that have stood the test of the time and remain very watchable 'til this day. This classic Thanksgiving flick sits seamlessly alongside classics like The Breakfast Club, Uncle Buck, Ferris Bueller's Day Off and Home Alone as some of Hughes' best work.
First published in November 2018; updated November 2021
Related Topics
Gaming Trailers