Halloween is the perfect time to dress up as our favorite characters from whatever popular culture franchise that we want to live in, whether it's for a few hours, or a weekend. A Doctor Who costume can easily serve double duty in quick succession this year. If you're having a fiftieth anniversary party (and even if you aren't), complete with fish sticks and custard, Jammie Dodgers, and Jelly Babies, proper attire is a must.
Now is the time to plan. A Halloween costume party would make an excellent preview, and it's a good way to spread the tale of the man in the blue box to those who still have no clue who he is. (Sadly, there are such people.)
While it's cool to be The Doctor, being a companion is always a great choice and some brave souls may crash parties in search of extermination opportunities.
Here are some splendid ideas to get your creative energies flowing. The complexity of these range from thrift-store-bought to clever craft and sewing creations.
The man in the (blue) box – Doctor Who costume
As far as being "The" Doctor, there are 11 regenerations, all having their own unique style and quirks. Like many Whovians, you'll most likely want to go with the recent incarnations Nine, Ten, and Eleven, as these gents are more recognizable. Classic Who fans may prefer to go with Tom Baker's Four. Each has their signature wardrobe piece that sets him apart.
For Eleven (Matt Smith)
This Doctor became a bit more formal as his time progressed, but the fun for him comes in the form of "cool" accessories. Add a Fez, a burgundy bow tie, or even a Stetson hat. For an earlier version, go with a tan colored blazer jacket, dark pants, black shoes, oxford shirt, and definitely some suspenders.
For Ten (David Tennant)
He's best if you can pull off his wild hair. His attire includes fairly easy to obtain items including red Converse sneakers, a tan trench coat or duster, a striped tie, an oxford shirt, and pinstriped pants/blazer combo.
For Nine (Christopher Eccleston)
This Doctor is totally easy. A thin, black leather jacket, dark pants and shoes, and a v-neck shirt are the essentials.
For Four (Tom Baker)
The signatures here are the iconic brown felt hat and striped scarf. He's dressed fairly ordinary, with a vest, long coat with a flare at the bottom, plaid pants, a burgundy red cravat, and dark, leather shoes.
Add sonic screwdrivers to each, of course!
If you're interested in some serious Cosplay, at near replica quality, this blog and its companions for costuming the Doctors will blow your mind. (And possibly your bank account… Can The Doctor set you up with an unlimited credit card?)
Genderswapped Doctors work just as well, too.
The versatile blue box
There are tons of ways to play the living TARDIS, from painting up an actual blue box, to some fashion clothing fun.

Mummy
My sweetheart has a gas mask that was used for another costume role. As soon as he showed it to me, I can remember saying "Are you my Mummy?" Going as one of the denizens of the London Blitz is fairly easy, as a surplus gas mask can be acquired from a military surplus store, or via eBay. Add some clothing that mimics the attire of early 1940s London, and you're set.
Don't Blink
If you're looking for something a bit more on the creepy side, nothing from Doctor Who works quite as well as a Weeping Angel. Especially if you combine it with shenanigans such as moving up on people while they aren't looking, only to stop cold if they look at you…
Exterminate
A fella that I've known since elementary school has gone all out and made a full-scale, functioning Dalek. While it's too late to consider this year, a lot of costumers feel it's never too early to start on ideas for next year.
Although there are alternatives for those more into the engineering of cloth…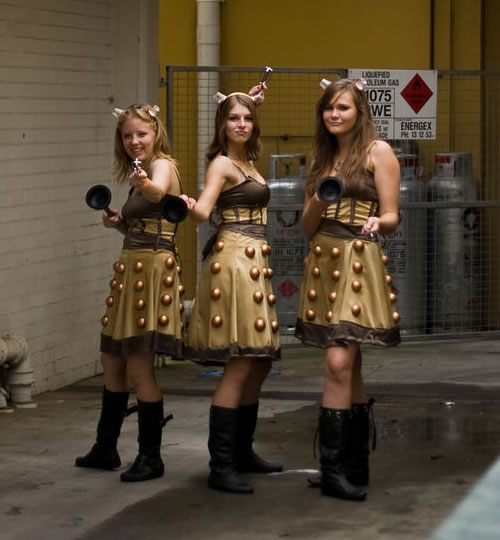 Captain Jack Harkness
Fairly easy to pull off if you can locate the appropriate overcoat.  Heavy gray overcoats are relatively easy to find on the surplus military goods market, or a Civil War Confederate greatcoat could work well. The suspenders with leather ends are a western style, as are his high-waist trousers. The shirt is also a ready-made find. Add some reddish brown boots, and you could be off to Torchwood.
Hopefully there's enough inspiration to get you going for this year's big events, and maybe you have a few seeds planted for next year. My sweetheart would make a great Eleven, so I'm thinking of putting together a custom coat for him for Christmas. Is it too early to be thinking of Christmas?
Related Topics
Gaming Trailers
Trailers Are Currently Unavailable.