Canadian TV series Orphan Black is perhaps one of the best running shows, especially for science nerds. And, even if you're not one, you'll easily find yourself drawn into the world of clones, intrigue, and some drama.
Orphan Black wasn't exactly a hit when it first aired, but last year, its viewership skyrocketed – from 369,000 to 738,000. If you're not watching the TV show yet, then that should be enough to convince you that it's worth your while. Or at least worth a try.
For fans, here's something to make your week.
Once again, I've gone through countless online stores to check out some of the best Orphan Black merchandise. I'll be honest from the get-go. Most of these items are geared toward women, but what can you expect? Women clones, hello? Then again, there's no law that says clothes, jewelry, etc. are solely for women (or men for that matter).
Here are the results of my quest for the best Orphan Black merchandise that will make you wish you could clone money.
Limited Edition Merchandise
Dylan Bruce Signed 'Orphan Black' Script Autograph Full Every Page COA Melanie
For true blue Orphan Black collectors, this is the one thing you will want to have. It's signed by Dylan Bruce, that hunk of a guy Paul in the show.
To assure you of its authenticity:
UACC Member: RD324
AFTAL Member: AD#150
COA issued by Authentic Ink Graphs. We give 'Lifetime Guarantee' of authenticity for all our autographs and they come with Certificate of Authenticity.
Securely packed and shipped by AltezzaGroup.com Fulfilment service on behalf of Authentic Ink Graphs.
There's only one copy, so hurry if you want it.
Wondercon 2015 EXCLUSIVE SIGNED Orphan Black Cast BBC Promotional Card
Exclusive WonderCon 2015 Signed ORPHAN BLACK Promotional Card Signed in person by: Dylan Bruce (Paul Dierden) Jordan Gavaris (Felix Dawkins) Evelyne Brochu (Delphine Cormier) Maria Doyle Kennedy (Mrs. S) Kristian Bruun (Donnie Hendrix) at Wonder-Con 2015 Limited Signing For Approximately 100 Attendees! Approximately 7 x 5 inches.
Also a must-have for serious collectors, and just like the script, there is only copy, so GO!
Clothing
Clone Club Top
This handmade tee is made of pre-shrunk cotton and comes in sizes from small to extra large. Only for clone club members.
Property of Dyad
If you're a member of the clone club, then Dyad owns you. If you're fine with that, wear this tee wherever you go. Even if you're not, just be cool. You can customize your item – tee, hoodie, v-neck top, and more.
Red Cow Skull Tee
This short sleeved t-shirt printed with bull horns and skull adorned with jewels is from designer Signorelli. It is made of 100% cotton and comes in a vibrant red/orange color.
If you're wondering what it has to do with Orphan Black, here's the cool thing: the top was worn by Felix in Season 3.

Felix T-Shirt
Speaking of Felix, here's a t-shirt that's only one of his many lines that only he can pull off.
Orphan Black Sestra Wings Girls T-Shirt
If I were to wear an Orphan Black top every day, this Sestra Wings Girls T-Shirt would be my choice not only because Helena's my favorite character, but the back of the tee has a pretty cool design as well.
Orphan Black Clone Club Men's T-Shirt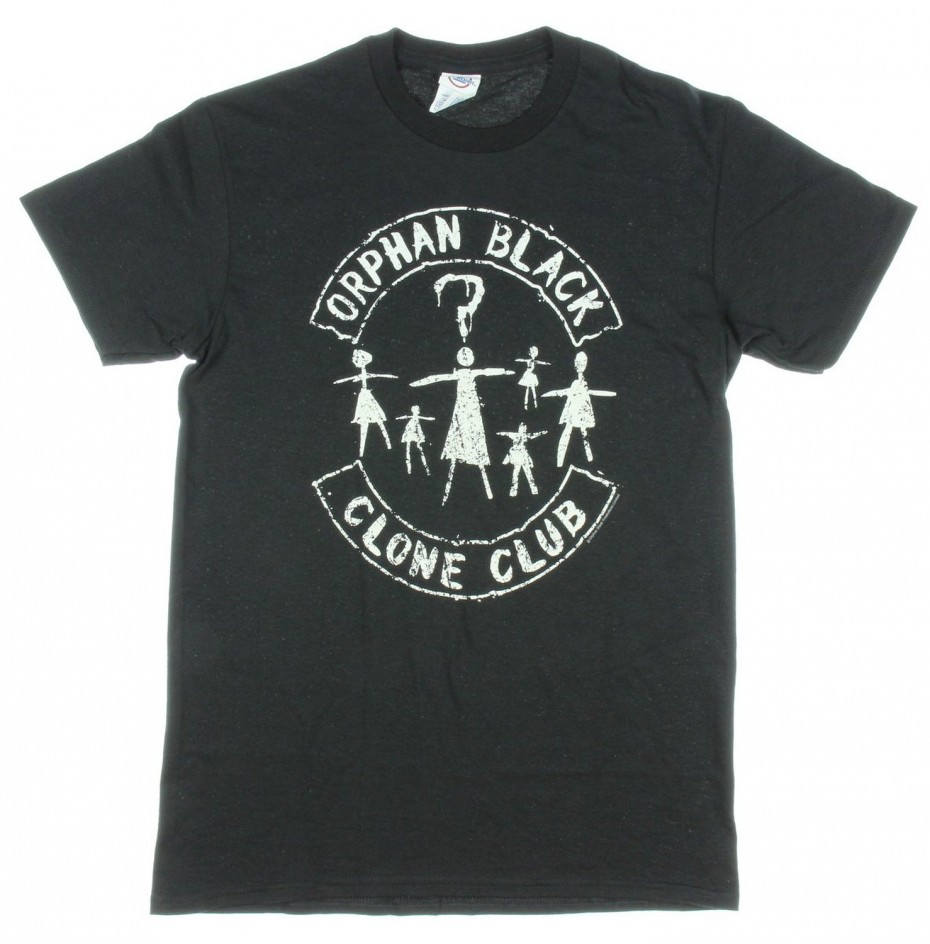 Here's another clone club tee, but with a different design.
Orphan Black Prolethean T-Shirt
The Proletheans may be a pain in the butt, but this logo's not that bad. In fact, it's an interesting design, don't you think?
Hand-painted Orphan Black-inspired Shoes
Sneakers lovers, listen up! You can have your own customized Orphan Black-inspired shoes. Made by AMdesignsStore of Etsy, these shoes can go with pretty much anything you wear. Just think Felix.
Collectibles and Toys
Set of Five Orphan Black Nesting Dolls

Nesting dolls are cool. Don't let anyone tell you otherwise. You can put them on display, or play with them, or impress your kids. This set is handpainted and varnished.
FunKo POP TV: Orphan Black – Helena Toy Figure

Of course, Funko POP figures have to be included. If Helena does it for you…
FunKo POP TV: Orphan Black – Pencil Eye Rachel Duncan Toy Figure

Rachel is the least likeable clone in my book, but who's to say she isn't appealing to others? And, after all, with the pencil in her eye, this one's pretty cool. No, I'm not psycho.
Orphan Black Pop TV Vinyl Figure Set of 5

To make it easier for you, just get this entire set.
Sestra – A Hand Stamped Aluminum Ring

The best word in the series: Sestra. My Helena bias isn't showing, is it?
This is made of aluminum and hand-stamped, made-to-order.
Helena Cord Necklace

I swear, this is the last Helena-related item. You have to admit, though, that this necklace is pretty bada$$.
Clone Club Necklace

Pair this necklace with the clone club top in the earlier part of this post, and you're good to go. No one will doubt your loyalty.
Water-resistant, but not waterproof, make sure you don't go swimming with this on.
Related Topics
Gaming Trailers