April is here, and the long wait for season 5 of Game of Thrones is almost over!
The chances are, you're planning a watching party, and you want to make it a grand one. A nice huge TV, awesome surround sound, fellow Game of Thrones fanatics, and of course, food and drink.
Make sure you've got enough mulled wine and free-flowing ale, and you're pretty much all set.
But there has got to be Game of Thrones food as well, right? If you need help, here are awesome Game of Thrones food ideas for your season 5 premiere party. They're sure to make the event a hit.
Honey-roasted chicken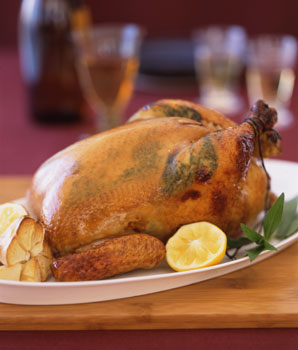 In the first season, one of the most memorable occasions (if not the most memorable) was King Robert Baratheon's visit to Winterfell. That was the turning point which changed everything for the Starks.
As befitting a king, the Starks served up a feast – although supposedly simple compared to what's normally served at court. One of the mouthwatering dishes is the Honey-roasted Chicken, and if you're planning a dinner party, this is a good choice.
Here's a recipe which you can follow.
Cupcake-tin pork pies
Pork pies! I'd eat them any day, and I'm pretty sure that if served at a season premiere party, they will sell like hotcakes. These pork pies aren't exactly the ones we see in the story, but they are handier to eat. Perfect for eating in front of the TV.
Learn how to make them here.
Meat and onion skewers
This dish is also from the first book of the series. Catelyn Stark visited her sister Lysa at the Eyrie, but before she was allowed to go up, she was offered some kabobs by the guard. The way Catelyn devoured the skewered kabobs was not exactly lady-like, but if they taste as good as they look…
This is easy enough to make for your party, and you'll have high fives all around from your meat-loving friends.
Lemon cakes
For dessert, make sure you have some lemon cakes. The one pictured above are "Medieval Lemon Cakes", which are Sansa's favorite. Whether you like Sansa or not, want to bet that you'll love these lemon cakes?
They're also perfect finger food, which can be eaten while watching the show.
Recipe here.
Honeycake with blackberries
Another option for dessert is Honeycake with Blackberries. How can one resist these pretty little things? In fact, this cake doesn't have to be served as dessert. Just lay them out on the table, and your guests will probably grab them as they go.
I'm not sure if other berries will work, but if you don't particularly like blackberries, I don't see why strawberries or blueberries won't be just as good.
The recipe for this also comes from The Inn at the Crossroads, which we just love!
Sample menu
Now here's a complete menu, courtesy of gordogg24p. You don't have to think about food choices anymore, and your guests will have a blast with the names.
While you're waiting…
Related Topics
Gaming Trailers