Ugly Christmas sweaters are always part of the season. Their origins are fuzzy, but it may be that the recently controversial Bill Cosby is the "founder" of ugly Christmas sweaters, with Chevy Chase also contributing to their popularity.
We do know, though, that ugly Christmas sweaters are basically unwanted articles of clothing gifted by eccentric relatives during the holidays. So, if they're ugly, why do we celebrate them? Again, go back to Bill Cosby and Chevy Chase who somehow made these bad-looking "sweaters" cool. So cool that there are even Ugly Christmas Sweater parties today!
Whether you're getting/giving one for Christmas, here are some geeky Christmas sweaters which may or may not fall under the ugly Christmas sweater category. You decide.
1. Santa Vader

Vader wearing a Santa cap. How can that be ugly? Then again, I dare you to tell Vader that he's part of an ugly Christmas sweater design…
Seriously, though, I'd wear this sweater.
Get the Santa Vader sweater here (when they get restocked).
2. Holiday Mix Vol. 1

All right, I have to say this sweater is rather ugly. Even though the concept is awesome, the design most certainly is not. Be careful when you wear this outside. People might bump into a pole staring at you…
Get this geeky Christmas sweater here.
3. Dragon Hoodie Sweatshirt

So this is not technically a sweater, but it's still something you wear to protect you from the cold. And it's definitely geeky. Not sure about the ugly part. What say you?
Get this hoodie/sweatshirt here.
4. Pac-Man

How can Pac-Man NOT be geeky? This design, however, may lead to questions arising. Questions such as WTF? If you ever are invited to an Ugly Christmas Sweater Party, I think you won't go wrong with this one. At the very least, you'll win first runner up if there were a contest. (No idea what the winner would be.)
5. Christmas is Coming

Of course there's a Game of Thrones-themed ugly Christmas sweater! In keeping with the traditional looks, this design nails it, don't you think? As much as I love Game of Thrones, I don't think this geeky Christmas sweater design will ever be part of my Christmas wishlist. You?
6. Zombie Sweater

Since zombies are still in (although some say they're out and tentacles are the new thing), why not integrate them into Christmas? This might be the best ugly Christmas sweater you'll ever get to wear if you don't like this particular holiday. Not only will you get eyeballs, you'll probably offend some people while you're at it. Just stick to an Ugly Christmas Sweater Party if you wish.
Then again, if you think about it, if you aunt gives you this geeky Christmas sweater, she's one heck of a cool auntie!
7. Street Fighter Sweater

Who cares if people thinks it's an ugly Christmas sweater? It's Street Fighter. And it's design-knitted, so it's like your aunt actually made it for you. Did I mention it's Street Fighter?
8. PlayStation Sweater

Let's say you spend more hours playing on your PlayStation than you spend outdoors (duh). What would you do if you received this sweater for Christmas? I don't know about you, but wear this, I shall. And I do spend more time outdoors than playing on my PlayStation.
You can buy this sweater here.
9. Yuletide Yoda
He's got a Santa hat and he's got a jolly-ish smile. Don't mistake him for an elf, though.
Get it here.
10. Christmas Knight
Not the sweater you want but the sweater you need. Especially if the temperature takes a dive.
Get it here.
11. Faces Ninja Turtle Faux Christmas Sweater
Who wants pizza for Christmas dinner?
12. He-Man She-Ra Christmas Faux Sweater
Check out those abs. Master of the Universe indeed!
13. Stranger Sweater
Everyone will flip when they see you wearing this ugly Christmas sweater!
14. A Very Pika Christmas
No Pokemon fan should go without this. Perfect for when you're out trying to catch a rare one.
15. Wonder Woman
Feel like Gal Gadot. Nothing more needs to be said.
16. Kirk, Spock, and McCoy
Here's one ugly Christmas sweater I will wear all year round if the weather permits. This trio is rockin' it!
17. Star Trek TOS Ships
Here's another Star Trek sweater – because we can't have just one.
18. Vulcan Salute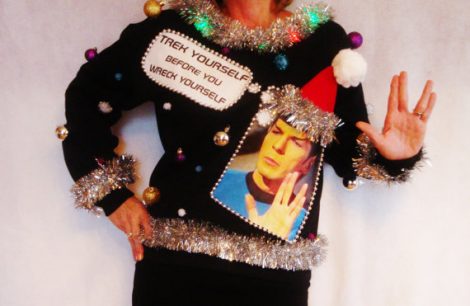 "Trek yourself before you wreck yourself!"
This is just too precious!!!
19. Ho Ho Hodor
He had one job…and you know what comes next. What better way to commemorate the hero at Christmas?
20. Doctor Who
Hello, Sweetie. Whovian here, loud and proud.
(Not sure if it is exactly TARDIS blue, but it works.)
If you want to score points with Hunger Games fans, then read this instead: 9 Hunger Games Christmas Gifts
Related Topics
Gaming Trailers