January is already coming to an end, and we all know the next big holiday that's coming up – Valentine's Day. If you celebrate this Hallmark holiday, then you probably should be getting around to preparing your gift for your special someone. If you don't really care for it but your partner does, then I suggest you get off your bum NOW. Either way, it's as good an excuse as any to get something geeky. Check out these geeky Valentine's gifts. Chances are you'll have fun anyway.
1. Bacon Soap
It's bacon. Period. Get it here!
2. You Are the Droid I'm Looking For Card
This greeting card will melt any Star Wars lover's heart. Get it here.
3. Anatomically Correct Cufflinks
OC when it comes to the accuracy of replicas? These cufflinks will not annoy you. Also available as pendants. Get the pair from urbaneye.
4. TARDIS Cookie Cutter – DIY
If you and/or your partner love baking, then better start making Doctor Who-inspire cookie cutter. Get the instructions from Doodlecraft.
5. Orion Necklace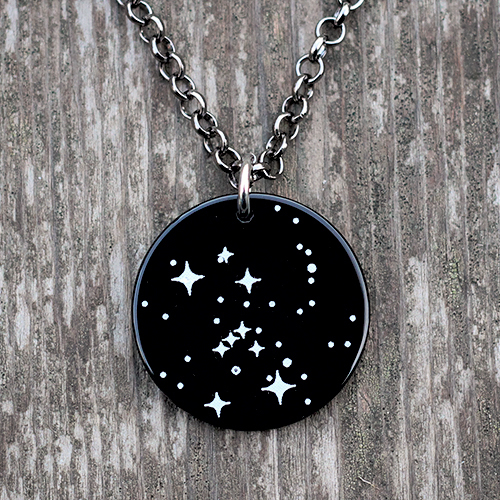 Stargazers? You'll love this necklace from Boutique Academia then. (We really love their stuff by the way.)
6.
Loungefly Marvel Loki Classic Cosplay Zip Around Wallet
You can never go wrong with a cool wallet – a practical one at that. Go for it!
7. Will You Be My Player Number 2?
Give this to your gamer Valentine, and you'll likely get a yes. Get it from playerNo2.
8. Pop Culture Doormats
Okay, giving away a doormat as a gift usually gives the wrong idea. However, if the doormats are like this, then it's a guaranteed yes. Check them out in different geeky varieties right here.
9. Star Fleece Jacket
Don't be afraid to go full Kirk on that Valentine prospect of yours. A quick glance at these Star Fleece jackets is enough to make even Spock blush. Grab them quickly before you run out of cold weather for excuses to wear these jackets.
10. Super Spa with Wonder Woman
You don't need that lasso of truth to tell you whether your Valentine likes you. What you need is a relaxing time at a spa paired with the right spa set from Themyscira. WARNING: this does not make you impervious to heat, and things are bound to get hot using these, go get 'em.
11. "Will you be my Valentine" Morse
What better to send an encrypted love message than with Morse code? These necklaces ought to do that, assuming you also understand Morse? Shouldn't be a problem, right? RIGHT?
12. Rogue Scoundrel x Rebel Princess Romance
Here's to all the scoundrels out there on the lookout for their rebel alliance princesses, brought to you by the force.
13. Labyrinthine 6-sided Die
Profess your undying love with a six-sided die. Also, make sure that it has a labyrinthine pattern so you can distract her/him while you figure out where to take her/him on a date. These geeky snake eyes are brought to you by Shapeways.
14. Hyrule Pocket Watch
Chances are, if you pick your date well, then you'd have a lot of cool and nostalgic video game memories to talk about. So give them something to remember you (and the time) by with this legendary pocket watch sold here.
15. Pac-Man Pac-Light Lamp
Light up your dark Valentine's Day night with Pac-Man's help. Because you need it to see in that dark room once you are done– watching movies, ha!
16. 8-Bit Baths
As long as you emphasize that your date totally does not need a bath when you meet, these nostalgic babies right here shouldn't be too awkward. Fun fact: if you bathe using two of these, they become 16-bit. Awesome.
17. Geeky Home Cooking
This one's more of an idea for a date than a gift, but nevertheless, it's a fun activity for you and your Valentine. Make sure to get yourself a good cookbook.
18. Tie You Closer Together
Perfect gift for someone who wishes to become a Jedi knight. Just make sure either of you knows how to tie one… if so, get it here.
19. A Gift That Does Not Sock
It's cold, make sure your date has all the warmth they can get from head to toe, especially the latter with these (love)sick socks.
20. Netflix and Chill?
A tried and tested date initiation method, though it's too blunt so you will want to add a little more sophistication to it. Do so with the help of these printable PDFs that you can either send online or make into cards.
21. One Ring to Woo Them All
Have some geeky proposal plans in mind that involve rings and kneeling? This store will do the ring, you do the kneeling. Go the extra mile to make 'em feel preciousssss.
22. Death Star Wall Clock
Give your date the gift of time and music in one with this Death Star wall clock made of recycled vinyl records.
23. Emoji Toilet Paper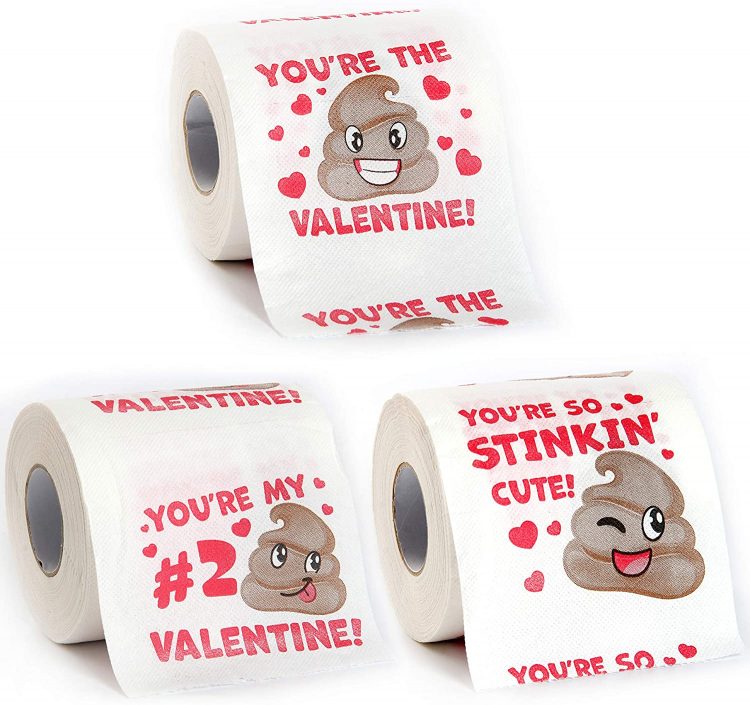 Okay, giving your date toiler paper may not be the most romantic gift, but these custom-made ones are just poorfect! Show your funny side with this hilarious gift.
24. Paper Compliment
Because flattery will get you somewhere, and so will this gift!
25. Something Cheesy
Make things extra cheesy with this Star Wars cheese board set. Use it with a little wine on the side, and you have one romantic date night.
26. Spidey Sense
Spiderman is all the hype right now and this Spiderman Ultimate Scientist Checklist Shirt will surely amp up your date's Spidey sense.
27. Return To Hogwarts
Just because we are still not over the 20th anniversary Harry Potter reunion! This Moleskin Limited Edition Harry Potter Notebook is the closest thing they'll get to an invitation to Hogwarts.
If your partner is a dragon warrior, then check this out: Gifts for Dragon Lovers
Here are some awesome potential Valentine's gifts for math lovers!
Updated Janaury 2022
Related Topics
Have something to tell us about this article?
Let us know
Gaming Trailers
Trailers Are Currently Unavailable.