Ever since there were video games there have been developers and gamers wanting to feel like they were behind the wheel of a fast car. As with most early games as well as those developed more recently, many have not aged well. However, that does not mean they were not fun or important at the time.
Over the last 30 years, there have been around 2500 driving games produced across the gamut of platforms including arcades, consoles, and PCs. That is a lot of games and covering them all would be impossible. Instead, we will look at just a few major players in the world of driving games both old and new.
The Evolution of Driving Games
History
Depending on your age, the start of the driving game story starts at a different point but for history's sake, it should always start at the beginning. That being said, many of the very first titles were very simple and so need little explanation.
The very first driving game was called Gran Trak and it was an arcade game produced by Atari in 1974. It was understandably very basic but nevertheless cutting edge at the time.
There were a number of 70s games all making their mark in their own way but it wasn't until 1981 when Sega realised Turbo that things started to really take shape. This was the first game with the now familiar 3rd person view from the rear of the car.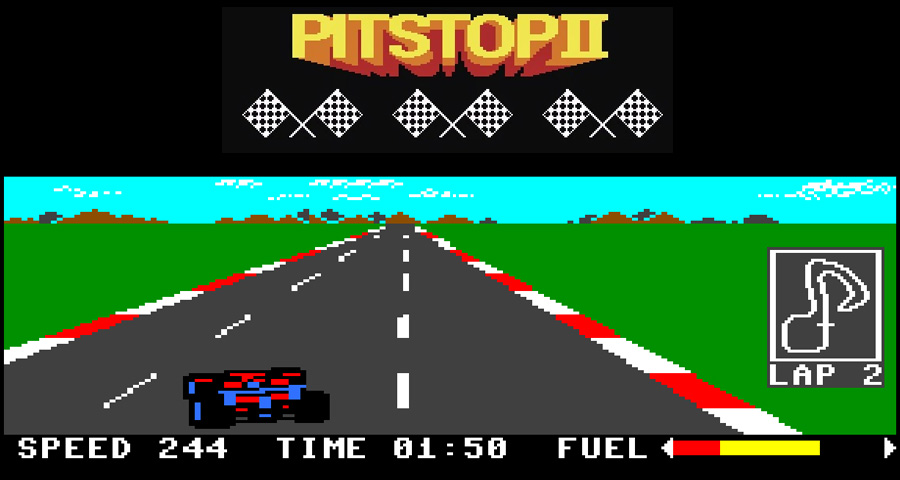 Another game changer was called Pitstop which came out in 1983. The reason this was so important was that it was the first split screen two player driving game; something that would go on to be a very popular move.
The next big leap was once again produced by Sega and it was called Outrun. This will be a title that many people will remember, the arcade unit actually moved and the soundtrack was brilliant…at the time. It did eventually come to early consoles too which was a huge deal at the time and sent home gamers into somewhat of a tape driven frenzy. Outrun built on what Turbo had started and really offered an immersive driving experience, it also clearly used a Ferrari as the main car, which was a big pull for gamers.
Later in 1987, Taito released the awesome Chase HQ which was also ported to nearly all the home computers and consoles on the market.
In 1989 Atari really pushed the boat out and launched Hard Drivin'. This game was incredibly important because it was the first attempt at creating a real driving simulator. It may have been almost impossible to play but it was the beginning of a format that would never go away.
Consoles
Rad Racer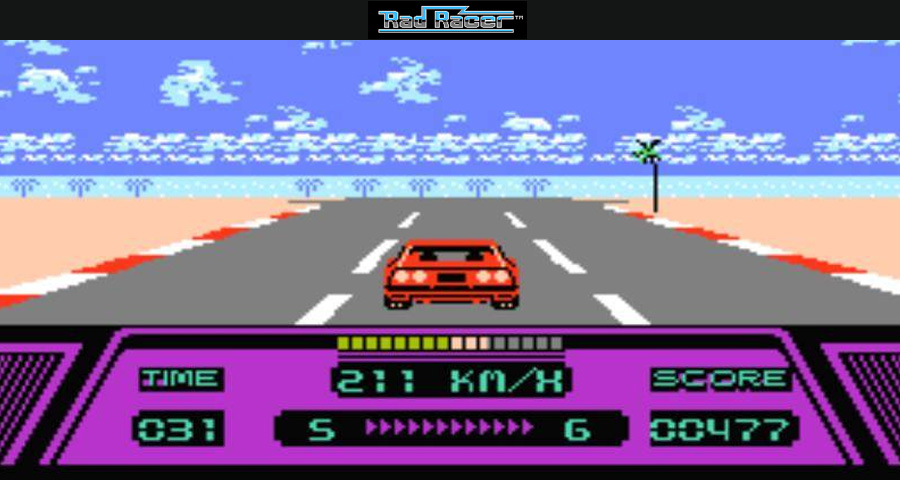 Not all the fun was being had in the arcades or in homes where people were willing to spend 45 minutes at a time loading a tape game that might never even work. It was also starting to appear in another format; consoles.  It was Square's 1987 hit Rad Racer that successfully made the leap to what were, at the time, technically inferior machines compared to the arcades but loved nonetheless.
Rad Racer, once again, kept the third person view and many of the traits of earlier arcade games but it managed to do it within the limitations of the 8 bit NES console. It felt fast to play, the sound was certainly good for the time and it even had a 3D headset option. This meant for the first time console gamers could play an arcade style racer at home via a fast loading system.
F-Zero
Now, while this may not be specifically a driving game in the sense of most others discussed here, F-Zero deserves a mention. It came out on the Super NES or SNES in 1990 and it features hovering "cars" racing on a futuristic track. The reason it is important is because for the first time a home console could really offer the player a good level of speed as well as choice in terms of the vehicle and setting. It could have featured normal cars for all the difference it made because the vehicles really felt like they handled like a car would. They slid round corners in such a way players used to end up leaning from one side to the other as they played and falling off their chairs in many cases. It may have dated pretty badly but it was a hit and really showed what a 16-bit console could do.
A Brief Return to the Arcade
OK, so we moved into the home and left the arcade alone but in 1993 two games came out that really set the scene for the next step in driving game evolution. The first was Ridge Racer which was by Namco. The reason this made such a big impact was in no small part down to the fact that the arcade machine itself was built around a real Mazda MX5 complete with 10-foot screen and fans to blow wind at the player. Of course, smaller versions found their way to smaller arcades but it was still an intense game and was really the first to offer a real feeling of oversteer as well as realistic dials and sounds.
The other crucially important game that came out on 1993 was Daytona USA by Sega. This simulator is the highest grossing arcade game of all time and was simply the best driving game there had been at the time. It had amazing and very realistic graphics and big multiplayer machines where 2-4 people could race together. It was incredibly popular and can still be seen in arcades today.
This franchise ended up being a very big deal but the very first game was actually titled Road and Track Presents: The Need for Speed. It was realised in 1994 and was a collaboration between Road and Track magazine and the mighty EA games. The idea was to attempt to map and emulate real car behaviour and it worked very well. It came out across a range of consoles as well as a PC version and very much continued to push towards a real simulator as opposed to a more "arcade" approach.
Anyone who has ever liked driving games will know about this franchise. The first version came out on 1997 while the second landed in 1999. Both were on the Playstation One and between them became the most popular games on that platform. The reason they were so popular was because they offered multiple tracks to choose from, great two player action and most of all a huge amount of customisation.
Players could earn credits to buy more and more exotic cars and then tune, tweak and customise them. It was this ability to alter the cars characteristics that really made these games a hit and continued to do so for years to come. This game even created its own real world racing academy with a TV show charting the success of the drivers. Some of these drivers are now fully fledged professional racers!
These days there is quite a big split when it comes to the style of driving games. The hardened racer is looking for more and more in depth simulator style games to play and the more general player is looking for something more like Burnout. There are a number of Burnout titles, each faster and crazier than the last and they all very much hang on to the arcade "fun" feel of games like Outrun and Chase HQ. Much of the game play is around smashing past cars and trucks at high speed and there is even a crash mode.  Burnout was not for everyone, but they were and still are very popular.
In an attempt to knock Gran Turismo from the top of the driving game pile a company called Turn 10 launched Forza Motorsport on the Xbox in 2005. The recipe was not really all that different but the research and the physics engine used was certainly a step forward. What begun in 2005 is still running now but the really important version was Forza 2 which was a launch title for the Xbox 360.
This game eventually came free in a console bundle when you bought a 360 and it meant that millions of gamers had a copy whether they liked it or not. The customisation options were immense from in depth car set up to spray painting and more. This, coupled with the fact it could be played online with friends lead to many long hours of head to head racing in ridiculously painted super cars of over modified hot hatches.
Things just kept getting better as the third, fourth and fifth game came out. The franchise then took a step back towards the arcade style game with the Horizon series which left hardened fans looking for another title but many other new comers very happy.
The battle between Gran Tourismo and Forza Motorsport carried on for most of the 00s and the first part of the 10s until Namco once again pushed things forward with Project Cars.
Project Cars
Namco may not have really done anything different with Project Cars but they did do everything better than it had been done before. This game was, and still is, the pinnacle of the driving games in terms of graphics, emersion and real world physics. The online world attached to it is huge with competitive races going on constantly and many hundreds and thousands of gamers all racing together in one form or another. The aim was certainly more at motorsport than tuning so it really appealed to the real purists.
The Future
The gaming world will never stop pushing the boundaries and with the advent of VR headsets the driving game is only going to go one way and that is more and more realistic. With millions of wannabe racing drivers out there we can look forward to many years of petrol based playtime to come!
This post was written by Mike James – independent writer and regular contributor to ForeverGeek, including the Evolution of FIFA… working with The AA Garage Guide on this, The Evolution of Driving Games.
Related Topics
Gaming Trailers