Everybody dies, sooner or later. But dying doesn't mean you have to stop being a geek.
There are no Photoshopped images here. Every one of these headstones is the real deal. And you've got to love the gumption of anyone willing to show off their geeky-ness on something as long-lasting as a grave marker.
Computer
Grave for a 26-year-old computer geek from China who — no joke — died in front of his screen. [Source]
Network Error
"He came, he saw, he logged out." I can so relate. [Source]
U.S.S. Enteprise
It's not enough that he was a Star Trek fan — he actually shared the exact same name as The Next Generation's first officer (yep, even his middle name). But the Enterprise depicted on the grave marker is from the original series. Wonder why they didn't go with the 1701-D? [Source]
Jaws
Hm…. You suppose Lester died at sea? Maybe he needed a bigger boat. (Apologies to the Madden family. Couldn't resist.) [Source]
Laptop
No idea what the story is for this one, but you have to assume this guy was super attached to his laptop. [Source]
Light Bulb
Don't scoff. Without electricity, you wouldn't be reading this. Totally awesome. [Source]
Maze
Come for the wake, stay for the brainteaser. [Source]
Infinity
Doesn't seem all that geeky, right?
Wrong.
Check out what's engraved on the sides:
That's right. Buzz Lightyear for the win. [Source]
Optimus Trek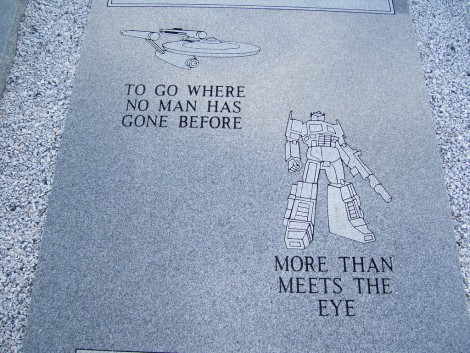 There's no subtlety here. This person is proudly letting their geek flag fly. And good on 'em. [Source]
Rocket
Strangely, the man buried here had nothing whatsoever to do with rocket construction or the space program. He just liked the design so much that he picked it for his own headstone. Extra credit: the sculpture has lots of rocket trivia engraved into it. [Source]
Scrabble
I refused to believe that this was real at first. But I found various sources verifying that this is the real deal, and can be found at a cemetery in Portland, Oregon. If you zoom in to the high-res image, you can see that each of the Scrabble spaces and tiles is actually a ceramic tile. [Source]
Snoopy
I tried to stick to real headstones used at real graves for this list, but I couldn't resist this unmarked, model Snoopy piece still waiting to be used. [Source]
Star Wars
No geek list is complete without at least one Star Wars entry. I love that this one has geeky stuff on both the front and the back. [Source]
TARDIS
I totally want a TARDIS headstone on my grave. Okay, so this isn't technically a "TARDIS headstone," but come on. It's impossible to look at it and not think of the Doctor. [Source]
Related Topics
Gaming Trailers