4-Billion-Year-Old Meteorite to Be Turned Into Dual Pistols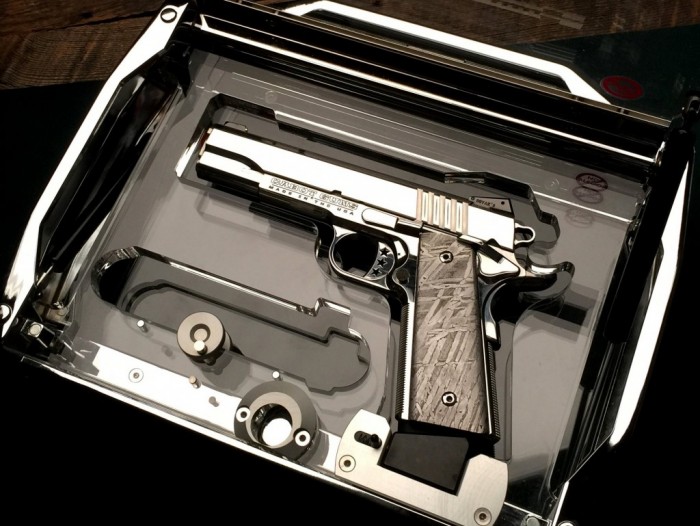 Beat that.
I'm sorry, Sir Terry Pratchett (bless your soul), but these meteorite dual pistols might just give your meteorite sword a run for its money.
Pennsylvania-based gunmaker Cabot Guns is planning to use a historic meteorite to forge dual pistols like we've never seen before.
The meteorite in question is the Gibeon Meteorite, discovered by Capt. J.E. Alexander in Namibia in 1838. While experts cannot say exactly when it fell on earth, the Gibeon Meteorite is estimated to have hit the ground in pre-historic times.
Cabot Guns is looking to use a 35-kilogram chunk of the meteorite for the dual pistols and has the "working name" Big Bang Pistol Set. Yeah, we saw what they did there…
Founder and president Rob Bianchin describes the dual piston set as a "modern work of functional art". With all the debate surrounding gun control, this might stir the hornet's nest, but how can you resist?
The company is unabashedly excited about the project, though.
"It's both romantic and fascinating to imagine that this meteor traveled across the heavens for four billion years before landing on Earth and is now being transformed into Cabot pistols," states Bianchin.

Cabot will display a sampling of gun components made from meteorite at the SHOT Show in Las Vegas, the industry's major trade show from Jan 19 to 22, 2016. The Big Bang Pistol Set will make their public debut during the NRA Annual Meeting and Convention in Louisville, KY, in May.  
Well, with the estimated price tag of $500,000-$1,000,000 for the set, it is a no-brainer for the common man. That means that only serious collectors will be able to afford these meteorite pistols and hopefully be responsible enough not to use them. Or, simply keep them inside a glass case because they're too expensive for use.
Have something to tell us about this article?
Gaming Trailers