Mythological Characters Deconstructed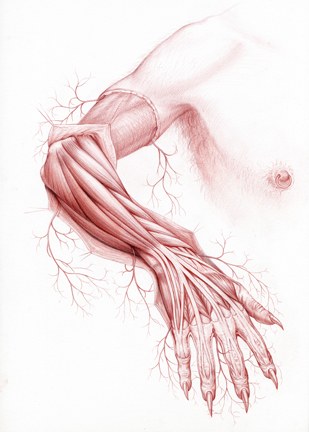 I have always been fascinated by mythology and fantasy. Greek, Roman, Norse, Filipino, etc. – various stories and character held me captive as a child. Even as an adult (supposed to be one, at least), I still find the magic that mythology offers irresistible.
Now deconstruction may not be the best thing that you can do with mythological characters, but Roberto Osti's work is perhaps the most interesting thing I have seen this month. Osti's work spans illustrations, paintings, drawings, and more. It seems that he has studied art all his life, and he also got a degree in Anatomical/Surgical Drawing. (Who knew that such a degree program existed?)
This degree is very well manifested in his drawing of a deconstructed faun. ((In case you need to be reminded of what a faun is, exactly, here is a snippet from the Wikipedia entry: The faun is a half human – half goat (from the head to the waist being the human half, but with the addition of goat's horns) manifestation of forest and animal spirits which would help or hinder humans at whim.)) We've all seen so many different portrayals of this mythological creature, but this one really does beat a lot of faun drawings/illustrations by miles.

I can only wish that he had undertaken a bigger project by showing more of the faun!
Osti has other works displayed in his web site, and I chose two others that caught my eye. I am unsure what they are, to be honest, as all I had to go on were the titles of the works. Nonetheless, they look awesome. This one is titled Hybrid.

I can only make a guess as to what this creature is a hybrid of. Any ideas? This is supposed to be a shaman.

For more of Osti's work, drop by his web site. ((Roberto Osti's web site))
Have something to tell us about this article?
Gaming Trailers