Yes, you can play pinball on the internet. There are countless virtual pinball games out there, recreated with advanced graphics and sound. But, as far as we know, this is the first time you've been able to play a real pinball machine, sending commands over the internet to control the flippers and ball launch, and viewing via webcam.
The guys at Liberty Games have wired this Stern Star Wars Pro to the internet using a Raspberry Pi, which sends commands received via the buttons over the internet to a PiFace relay. It handles four commands: left flipper, right flipper, ball launch plunger and game start – enough to play the game.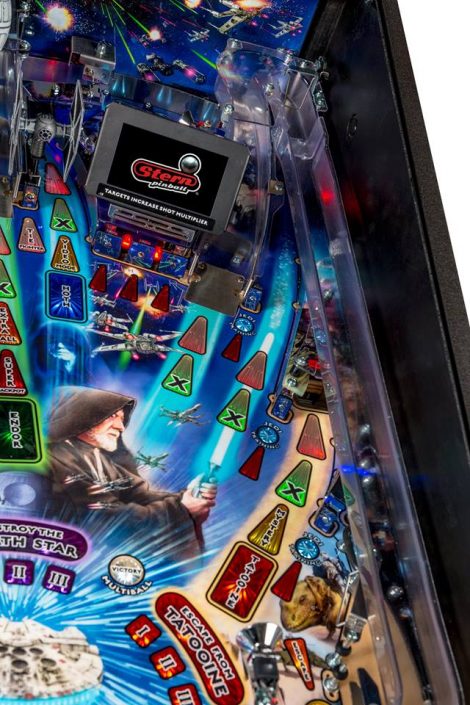 It functions well in most browsers, with very little lag indeed. In Chrome, however, compatibility is an issue, making it far slower. Only Yoda has been able to play it successfully in Chrome so far.
This project was the next logical step after their popular internet-controlled claw machine, which they've run over Christmas for the last two years. The pinball presented new challenges over the claw machine, most notably compensating for the high ball speeds and quick reaction times needed to play the game.
It's a Star Wars Pro pinball machine, made by Chicago-based Stern. Launched in the summer of 2017 to celebrate the 40th anniversary of the release of A New Hope in 1977, it is a full arcade-standard pinball packed with original artwork, sound effects and themes from the first three films.
Advanced mission-based gameplay makes it great fun for a quick game or for more involved players. Built your point scores by targeting TIE Fighters and the Death Star, and go for the lightspeed hyperloop feature – which makes the ball speeds in Star Wars among the highest in pinball history.
It's available in three variants. This is the Pro: the most popular model. The more advanced Premium and the ultra-exclusive Limited Edition are also available. May the Force be with you.
Always.
Related Topics
Gaming Trailers