If you're like most of the geeks I know, you got into reading because you were either terrible at sports or social interaction. And that's awesome! But now as a socially sparkling adult, you're of course hitting the beach with your cohort of pals. Take along an interesting sci-fi or fantasy volume to round out your summer reading list. The beach is, after all, one of the best places to get some alone time with a good book. Especially now that it's actually possible to go outdoors.
Classic Reads
If you want to brush up on the massive back catalog of sci-fi and fantasy books, here are some great choices for your summer reading list this year.
This intro to the sprawling world of Dune is gripping and lengthy. It's perfect for voracious readers raised on fantasy novels, mixing many of the tropes of fantasy books and magical realms with the rules of science fiction.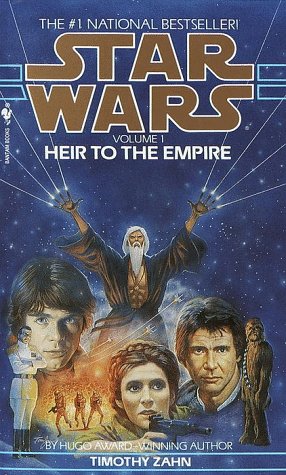 While the older Star Wars novels are no longer strictly canon, they're still awesome books. Heir to Empire kicks of the three-book trilogy that made up the unofficial sequel trilogy. It takes place shorting after the events of Return of the Jedi and stars all your favorite characters from the movies, as well as some amazing new ones. If you've heard of Thrawn, this is where he got his start.
Modern Classics
If you want something a little fresher, take a look at these modern classics. We've left some of the best-known books off, assuming you've already checked Game of Thrones and similar.
Like Starship Troopers, Haldeman's The Forever War follows a single soldier through a war with a poorly understood alien race. It's a better version of Starship Troopers, with less propagandist overtones and more insight into the emotional world of our main character. It also contains what turns out to be a compelling love story set in a hard sci-fi world: a rarity to be sure.

If you've been into The Expanse, the best sci-fi show on TV, you'll want to check out the books. Written by a duo of incredible talent, these writers live up to their reputation as "Game of Thrones in space." There are eight books for you to explore, and the first one is cracking.
If you're not hip to Sanderson's newest world, now is the time to tune in. This is the first of a planned 10-book series (three have been published) centering around a newly-created world of Sanderson's "hard magic" and medieval-type setting. It's a fascinating, complex world well worth getting sucked into. And better still, Sanderson is so good at finishing books that he finishes other people's series, so there's no need to fear a Kingkiller Chronicle/Game of Thrones situation here.
Deep Reads
If you prefer your summer reading with a bit of philosophical weight, consider these heavier volumes.
Recently translated from Chinese, this sci-fi treat was praised by critics as varied as President Obama and George R. R. Martin. The book was voted Best Story at the 2015 Hugo Awards and nominated for a Nebula the same year.

A deep, complex, and sometimes-bewildering space operate that explores the protagonist's journey to fix an unjust universe built upon artificial intelligence. Thrilling, moving, and mind-blowing, especially for a debut novel.
Based on the structure of Chaucer's Canterbury Tales, this sci-fi novel follows the stories of several travelers seeking the Time Tombs, mysterious artifacts that alter the flow of time. They rush to face The Shrike, a brutal metal Goliath known for impaling its victims upon a thorny tree, to squirm and suffer for all eternity. By turns emotional and thrilling, this is an astounding introduction into an emotionally and politically complex science fiction universe.
Fun Reads
If you want to keep it light at the beach, take a look at these options.
If you grew up in the 80s, it's hard to imagine The Princess Bride in anything but its cinematic form. But the book that gave the movie birth it's just as interesting and amusing as that celluloid romance. Is it a "kissing book?" Find out for yourself!
A member of the oft-murdered Redshirt class begins to realize that his life will probably be shorter than desired. Can he save his life by simply avoiding Away Missions? Or is there a deeper mystery afoot? Fans of Star Trek will love this humorous but still intriguing romp of a tale by one of sci-fi's best-loved authors.
Terry Pratchett is an absolute master of fantasy humor, a genre that he more or less pioneered with his Discworld series. While it's hard to go wrong with anything from that world, Small Gods displays Prachett's sparkling wit in a stand-alone volume that's perfect for getting new readers familiar with the tone and rules of Discworld, a frisbee shaped world balanced on top of a turtle's back.
You might also like the following posts:
This was first published in June 2018; updated July 2021
Related Topics
Gaming Trailers
Trailers Are Currently Unavailable.