It's one of the most recognizable logos in the world, but the Superman S-shield has gone through a lot more changes than you may think!
A note before proceeding: I adore comic books, but for the purposes of this list, I chose to focus only on Superman's appearances on film or television.
Max Fleischer's Superman (1941-1943)
Superman's first animated outing came from the incomparable Max Fleischer, across 17 short films that were released over two years. The first time the son of Krypton was seen on film, he had a drastically different S-shield with a black background and gold outline. The shape is also very different, looking very nearly triangular. Superman would not be seen in animated form again until 1966's The New Adventures of Superman.
Superman (1948) & Atom Man vs. Superman (1950)
There may have been another to don the Superman tights and cape before him, but Kirk Alyn was the first actor to portray Superman on film. Alyn — and his remarkably buff physique for the 40s and 50s — starred in two black & white serials, sporting this rather cartoony S-shield. (The rest of the costume was surprisingly good for the time.)
The Adventures of Superman (1952-1958)
George Reeves' television show — the first small-screen outing to star the man of steel — marked the first time the S-shield took on the familiar shape and typeface we're most familiar with today. This logo would go on to be used in countless live-action and animated films and TV shows.
It's a Bird… It's a Plane… It's Superman! (1975)
A 70s stage musical of the same name was turned into a TV special, and this was the result. Costume-wise, it was not Superman's finest hour.
Superman: The Movie (1978)
Christopher Reeve is still the Superman for many a fan. He sported what is probably the most iconic version of the S-shield ever, a large, diamond shape that covered the entire chest.
The Adventures of Superboy (1988-1992)
This small screen Superboy — which starred two different actors in the title role across its four seasons — aired in syndication, and used a costume (and S-shield) that was nearly a carbon copy of the Christpher Reeve film version.
Lois and Clark (1993-1997)
Dean Cain's costume for this ABC romantic dramedy was another low point for the character. The show had its charms, but Cain's embroidery S-shield looked like an overgrown Boy Scout patch. I like that it's nice and big, because darn it, it should be big! But it doesn't feel like it's part of the blue unitard suit. Also not cool: the S looks like it's being squeezed into place.
Batman Beyond (1999-2001)
Batman's next-generation protege met up with the man of steel in a few episodes of this animated TV series. Apparently, Supes wears a dramatically different suit in the future, featuring a black & white design and a shield that frankly, I'm not even sure has an S in it.
Smallville (2001-2011)
Tom Welling insisted on never wearing tights during his run as not-yet-Superman Clark Kent, in Smallville. So the costume department got creative and put him in this red leather jacket with the iconic S-shield pressed into it.
Justice League: "A Better World, Pts. 1 & 2" (2003)
A two-part episode of this animated series introduced the "Justice Lords," an alternate Earth's version of the Justice League. But this team's version of Superman was nothing like ours; they were a band of harsh overlords who ruled over their planet, enforcing order with an iron fist.
Legion of Superheroes (2006-2008)
When a teenage Superman traveled to the future to join up with the Legion of Superheroes (temporarily), the art direction of this series called for a very stylized look to his duds — including this rather severe, angular S-shield.
Superman Returns (2006)
Bryan Singer's reboot of the big-screen film series treated the Christopher Reeve films as holy scripture — to the detriment of Singer's movie. But one area of departure was the costume worn by star Brandon Routh. I've complained about it before, so I'll just focus on the S-shield here. Put simply: if it were any smaller, it'd be invisible.
Superman/Doomsday (2007)
This animated movie was the first in a series of comics-to-animated-DVDs films put out by DC Comics and Warner Bros. Animation. It took the familiar plot of the "Death of Superman" storyline and overhauled it in a big way. One element of the comic it kept, however, was this black "Solar Suit" that absorbs sunlight, helping to faster restore Superman's powers after his death-defying battle against Doomsday.
Batman: The Brave and the Bold (2008-2011)
There's something kind of boxy about this less-curvy S-shield, from the Batman-and-a-friend-of-the-week TV show.
Justice League: The New Frontier (2008)
This retro tribute to the 1966 shorts was used in another of the DC animated films.
All-Star Superman (2011)
If you've been wondering why I haven't included every single animated version of Superman on this list, here's why: unless they're mentioned elsewhere in this article, every animated version of Superman has looked pretty much identical to this one, from the animated film All-Star Superman. Why did I pick this one and not another? Because I like this image and it's my article, darn it.
Batman: The Dark Knight Returns, Pts. 1 & 2 (2012 & 2013)
Another DC animated movie, this one set in the future. The costume is familiar, but the S-shield looks a little different than ones we've seen before, such as that final curl on the bottom end of the S.
DC Nation Shorts: "Superman of Tokyo" (2012)
In 2012, Cartoon Network started airing a series of "DC Nation Shorts," one of which was about a baby in Japan who was given superpowers when he wore Superman's cape as a diaper. Not kidding.
Injustice: Gods Among Us (2013)
Superman's most recent appearance in a video game was a real departure from his typical look. (Every other video game I've seen him in uses an S-shield that looks just like All-Star Superman or the Christopher Reeve version.) I rather like this one, especially how the cape comes out of the top corners of the shield.
Man of Steel (2013)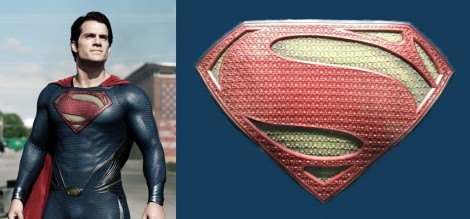 And finally, we come to today. Henry Cavill's supersuit got some early criticism from fans for ditching the red briefs and adding in lots of extra details, but the strong buzz over how good Man of Steel is, in the weeks leading up to its release, seems to have quieted all of that. The texture on the shield (and the suit) looks a little odd up close, but on film it looks really cool. More "real world" real, somehow. The font is also a major change from past iterations, going from ultra thin to really thick, but it's still recognizable as Superman's logo.
Related Topics
Gaming Trailers