The modern Christmas tree is more than a thing to put presents under. It's a representation of your tastes, your hobbies, even your personality. Mash up some wildly outside-the-box creativity with the kind of devotion that only a geek can have, and you get some amazingly awesome Christmas trees.
Like these.
Dalek Tree
Such a perfect marriage, it's a wonder no one's done it before. It's all the more impressive when you zoom in and see just how simple it was to make out of ordinary household items like a laundry basket and a plunger. By Lindsay Testolin.
Lightsaber Tree
Okay, so technically these aren't lightsabers — they're flourescent light bulbs. But you know you thought "lightsabers" when you saw it, too. By Gareth Pugh.
Tron Tree
At first pass, this tree looks like it came straight out of the old-school Grid from the original Tron. But zoom in and you'll see that these rows of lights are just that: lights still inside their plastic holders that they come in when you buy 'em. Very clever. By Richard Whittaker.
Hard Drive Tree
They may look like CDs, but these are really old hard drives, repurposed as a shiny, metal Christmas tree. It took 70 hard drives to create. By Trigger.
LEGO Tree
Straight from this year's Christmas display at Legoland in San Diego, this is reportedly the world's largest LEGO Christmas tree. It stands 30 feet tall and was made using 245,000 green Duplo-sized bricks. It's decorated with over 240 LEGO ball ornaments, and real lights.
Tesla Tree
Made using a huge Tesla coil and a long photo exposure, it's not technically the exact shape of a Christmas tree (the traditional triangular pine), but it's still wicked cool. Even more impressive are all of the different colors that electricity addict Peter from Australia managed to create with it, which you can see more of on his website.
Old Computer Parts Tree
What better use for old computer parts like keyboards, motherboards, mice, and chipsets could there be than to paint them red and attach them to a wagon? By Sunny Brook.
Pac-Man Tree
By now, I'll be more surprised if you haven't already seen this popular Pac-Man inspired Christmas tree from Madrid. It's been a yearly installation for a while now. But it's still awesome. Photo by Antonio Garcia Rodriguez.
Cars Tree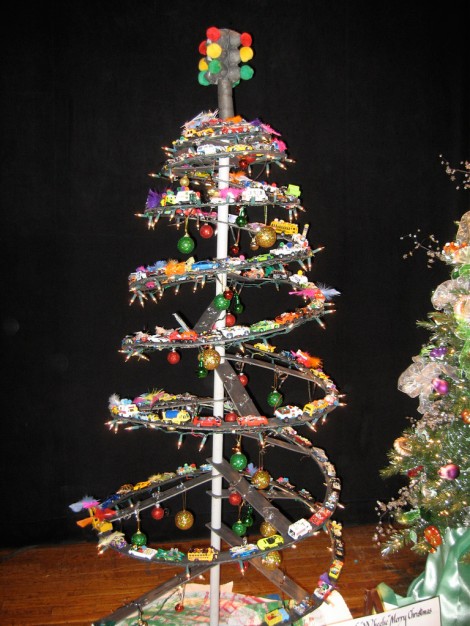 This one's for my son, who's obsessed with all things Cars. It took one devoted parent to create this spiral, winding ramp and fill it with Pixar characters. By Danny Novo.
Spinning Tree
You know those tacky LED/fiber optic Christmas trees? This is what they look like when they're attached to a motor and spun around with a long-exposure camera running. I want one. Even though it reminds me of that Doctor Who episode where Rose and her family were attacked by a killer Christmas tree. By Kevin Kotterell.
Apple Tree
Because there's no such thing as a "geek list" that doesn't include at least one Apple entry. By Metamorphosis.
OLED Tree
The computer geeks at GE made this tree a couple years ago out of some of those shmancy, bendable OLED computer screens that will someday allow us to wear flexible screens as bracelets and whatnot. A world's first, at the time. By GE.
Related Topics
Gaming Trailers