There's a periodic table for that!(TM)
Anyone who has read ForeverGeek for a while knows that we are big fans of periodic tables. Don't believe me? We even have a periodic table tag. Although not every author in the history of FG totally element focused was and would gladly leave out the creation of a new element from a geek-gasmic list, generally we do love our elements and periodic tables. So time for a roundup of periodic tables. While there are lots of periodic tables out there, we did stick to tables which at least do look like a genuine periodic table and not one of the many knock offs with only few elements.
Periodic Coffee Table of Elements
Of course there is no way we can leave THE ultimate periodic table of elements out of this entry: the by Theodore Gray handcrafted wooden periodic coffee table of elements. Typography and chemistry in one, the absolute winner and we dare to say it, the best periodic table of elements ever. I will gladly design my house around this table and commit burglary!
You can read more about the creation of the periodic coffee table, which we first featured almost two years ago, here
Periodic Cupcakes
A close second one will be the periodic cupcakes. Of course it is very difficult to come anywhere close to Theodore's coffee table, but these are genuinely periodic cupcakes and we love cupcakes.
This ultimately delicious geekiness has been created by Foodie Friday.
Periodic Table of Beer Styles
Being Belgian I could argue lots about this table but I won't. Instead I should facepalm and curse myself for not having thought of this myself. If this were available in print size, you better believe that the Periodic Table of Beer Styles would be on a wall near me. Because beer, we love at FG HQ.
Brought to you by John602.
Periodic Table of Cartoon Characters
If classic cartoons are your thing, you will be delighted that… There's a periodic table for that!(TM)
You can view the complete images, with names, at Andrew Speers' Flickr.
Periodic Table of Meat
While the only correct periodic table of meat probably has to consist of 103 bacon elements, this table does recognise that bacon the meat of life is and thus element #1, also a noble meat. This inevitably bring us to H2B: Bacon double cheeseburger.
Not everything listed is 'meat' but often also rather a 'dish', such as Hot Dogs but we are not going to complain about that are we?
Periodic Table of Awesoments
This could possibly have been the most challenging periodic table of all to compose because how can you define what awesomeness is. We use our Dept. of Awesomeness for that here at FG HQ but Dapperstache certainly did a good job at it. Bacon and Ninja for the first two elements consists of lots of win and the rest of the table certainly does not disappoint either.
Periodic Table of Typefaces
Every geek has a little design gene in them and loves nice typography. Don't we all prefer Hel-frakkin'-vetica over Arial?
So if typography is your thing, the periodic table of typefaces belongs against your wall.
Also available in black.
Periodic Table of HTML5 Elements
Another awesome periodic table for design geeks is Josh Duck's periodic table of HTML5 elements.
The table consist of 103 HTML5 elements and is entirely clickable, showing the user when the elements are meant to be used and their code. Watch the online version of Josh's HTML5 periodic table here.
Periodic Table of Elements by Google Images
Another very 'www' periodic table is Davebug's Periodic Table of Elements by Google Images. This is a classic period table but instead of using symbols (abbrevuiations) for this table, Davebug used Google Images search.
Periodic Table of Rock Music
Although sadly made in 1987 and thus rather outdated already ((Or in dire need of an update)), Roadside Jesus' Period Table of Rockin' is an absolute must for periodic table geeks and very detailed.

Visit Roadside Jesus' site for a detailed and linked version.
Periodic Table of Swearing
Recently already featured here on FG is the Periodic Table of Swearing. All fans of Frack and other swearing euphemisms or catholics might now want to look away because this table is surely full of common language adult terms and not for the weak of heart. If you work for the Vatican the following image probably deserves a [NSFW] tag.
Periodic Table of Vulgarity [NSFW]
In the same vein as the periodic table of swearing is the periodic of vulgarities brought to you by College Humor. For those who will never be featured on the periodic table of wisdom, using both College Humor and vulgarities in one sentence means that the result a clear [NSFW] tag is, even for those not working at The Vatican or at Buckingham Palace. If you are under 18, or under the legal age in your jurisdiction, scroll further but do NOT watch at this periodic table.
Purchase your poster from BustedTees for only $6.
Periodic Table of Candy
After having had a nice and double greasy H2B ((bacon double cheeseburger)), we obviously need some candy to digest everything. There's a Periodic Table for That!(TM)
Brought to you by Dr. Chinese.
Periodic Table of Cupcake Recipes
While we're in the candy mood already after the previous periodic table of candy, there's a second cupcake periodic table you should know. Especially if you like making your own cupcakes: the periodic table of cupcake recipes.
Woman's Day's periodic table links to 46 cupcake recipes.
Periodic Table of Caffeinated Beverages
While we aren't entirely sure about the usefulness of this table , or even the 'periodicness' of it, if it's got caffeine in it is has to be awesome, right?
Those who need a constant reminder in their cubicle about all drinks they could have to stay caffeinated while coding can purchase this periodic table poster from Learning Zone.
Chuck Norris Doesn't Like Periodic Tables
Of course if it's online, there has to be a Chuck Norris variant as well. While we might not be the biggest fans of this Chuck Norris gimmick, things could always be worse and there could have been a drunk Hasselhoff version!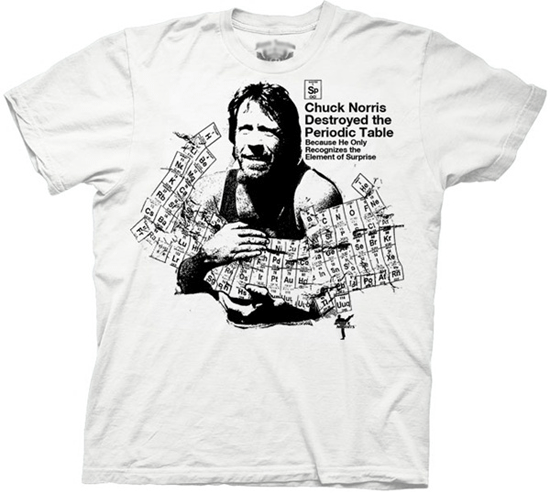 Available from Crazy Dogs.
If you would like to discover more online periodic tables, visit the IDPT, AKA The Internet Database of Periodic Tables.
Related Topics
Gaming Trailers