Ubisoft's Post-It Note War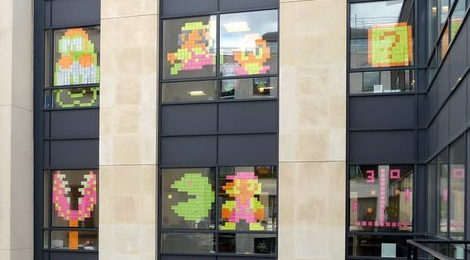 I have no idea who's winning, but there's a war raging in Paris as we speak. The battlefield? Ubisoft's Paris office building and the offices of French bank BNP Paribas across the street. But instead of weapons, these two foes are wielding video game characters portrayed in Post-It Notes.
Apparently, sometime in May, a Ubisoft employee unknowingly kicked the whole thing off when she decorated her office window with a scene from Space Invaders, using colored Post-It Notes. A few other people in the office building liked her work and came up with some video game character Post-Its of their own.
None of this escaped the notice of the BNP Paribas headquarters building across the street, because a few weeks later, someone in that building created a Post-It video game homage of their own. And in the months since, the battle has escalated, spreading to more and more windows across both buildings. Today, there are dozens upon dozens of video game Post-Its on both buildings (which seem to have gazillions of windows each), and the war is still raging, and even spreading to other office buildings in the City of Love.
In addition to Space Invaders, video games and characters represented include Pac-Man, Asteroids, Mario, Bowser, Link from The Legend of Zelda, Donkey Kong, Kirby, Sonic the Hedgehog, Ubisoft's Raving Rabbids, Rayman, Pikachu, Batman, Hello Kitty, Portal, Ezio Auditore from Assassin's Creed, and many more. Surprisingly, there have been no Angry Birds sightings yet. (I'm sure that will be remedied soon enough.)
The Post-It War has inspired its own website, Twitter hashtag, Facebook Page, and the French media are having a lot of fun with it, as well.
Have something to tell us about this article?
Gaming Trailers