Fitness, calorie counting, and activity tracking are in the realm of the tech-obsessed, with gadgets like Fitbit, Jawbone Up, Nike's FuelBand, and other devices hitting electronic stores worldwide. Now, instead of wondering passively about your health, you can check several mobile apps to get the full rundown on your weight trends, calories left for the day, sleep cycles, and even what your friends are up to. Gym bunnies and jocks aren't the only one's taking advantage of weight loss and fitness training apps. There are lots of health problems the geek lifestyle can cause so take a look at some of these uber geeky options.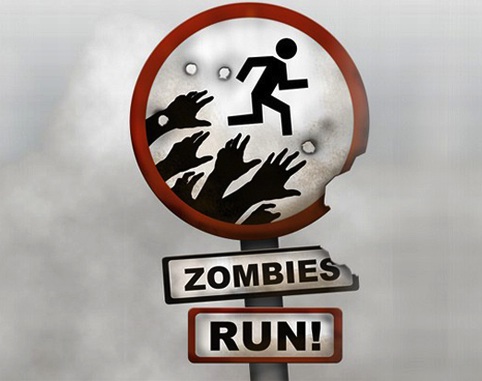 Zombies Run is terrifying, addictive, and hilarious. Don't be surprised if you find yourself getting caught up in the audio storylines and laughing as you escape another horde of brain eaters. This amazingly complex app narrates an adventure to runners through their headphone, while tracking their speed and distance with their smartphones. As you pass certain benchmarks during the run, such as increased speeds or distance markers, your character picks up useful supplies and evades the undead. Runners with a targeted goal can jump into the 5K Training programs, which is designed to help new runners ease into an exercise schedule.
One of the coolest features of Zombies Run! is that the narrative works around your music playlist. That is, the audio narrative takes breaks as your character completes tasks, and your music fills in the silence between these breaks. But don't slow down too much, because then you'll start hearing zombies in the background, as they begin to overtake you! The custom music option can help give you a break from the adrenaline rush in this post apocalyptic fitness scenario.
Portal fans rejoice! If you've enjoyed the condescending charm of GlaDOS during the last two video game releases, then you'll love the demotivational snark of Carrot Fit. You better have a thick skin before downloading this app, because it's billed as "the judgmental weight tracker." The GlaDOS-reminiscent voice is quick to judge users, based on their weight – doling out endearing insults like "meatbag." If your starting weight is lower than subsequent weigh-ins, she critiques your ability to do math and hit lower numbers. Carrot Fit provides some hilarious and condescending feedback – she's like that mean relative who never really learned how to filter herself.
Some people just can't get motivated to work out unless it's got a social aspect. That's why gyms can be so useful (as long as you go). They provide people with a networking system – even if you don't know anyone, you feel like you're all working toward a common cause. Fitocracy strives to recreate this "gym" environment on the mobile phone, getting you to share workout stats with your friends and join in group exercises. The geeky part comes in with the achievement badges – you can work your way through the Fitocracy levels by completing key workouts, being consistent with your records, and interacting with new people.
Perhaps one of the coolest things about Fitocracy is the attention that it's garnered from celebrities. In fact, Arnold Schwarzenegger himself has crafted a Fitocracy workout for users, motivating them to dedicate just 1% of their day to a weight lifting and conditioning routine. Film nerds can rejoice and join Arnold in this daily workout effort.
App developers are thinking outside the box and creating new fitness and weight tracking software to appeal to different types of users. These apps can usually be paired up with great activity tracking devices, self-direct workout regimens, and maybe even professional trainers for ultimate effectiveness. Gaming incentives, recognizable character tropes, and awesome celebrity guest appearances are just some of the ways geeks are jumping into new diets and workout routines.
Gaming Trailers