With the hotly anticipated Ahsoka series now right around the corner, Lucasfilm and Disney are slowly ramping up their marketing drive for the show and as part of that, a collection of five new images have been released.
The hi-res pictures show off Rosario Dawson in all of her glory as the titular Ahsoka Tano while we also get fresh new looks at Star Wars Rebels veteran Hera Syndulla and the new villains, Baylan Skoll and Shin Hati.
Ahsoka aboard a mystery ship
The first of the new images, understood to be from episode 1, shows Ahsoka standing with arms folded in what is potentially an Imperial ship, given the dark gray walls and lighting slits that contrast with the typically white decor of Rebellion vessels.
Sabine's Star Wars Rebels mural
Up next we see Natasha Liu Bordizzo as Sabine Wren in episode 2 admiring the mural she painted of the Ghost crew in Star Wars Rebels.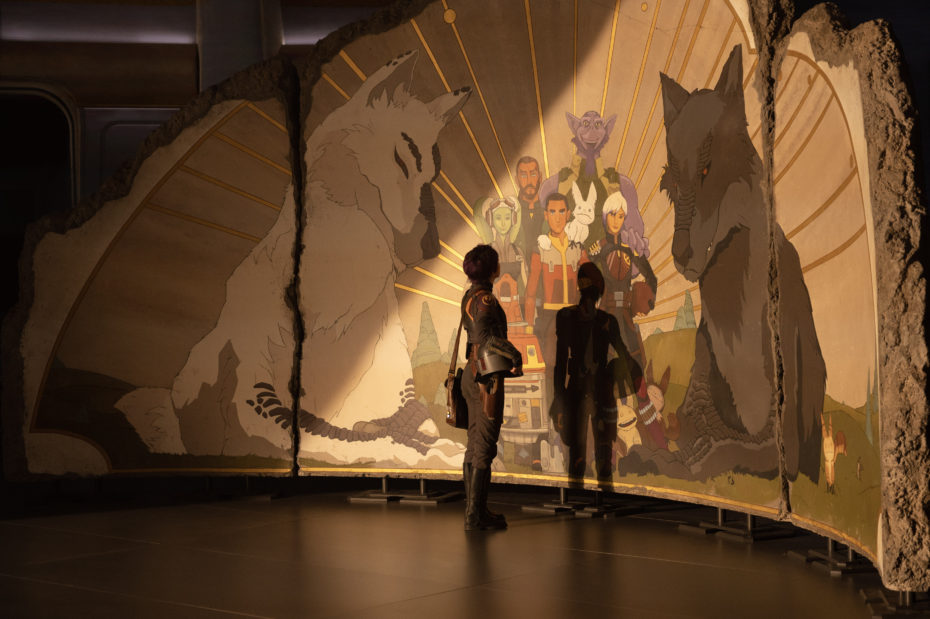 Ahsoka brandishing lightsabers
Another image from episode 2 shows Ahsoka branding her two lightsabers at a foe off-screen. Given that she appears to be standing in a control room at the industrial facility shown in the trailer, the mystery foe is potentially the masked Inquisitor she's seen fighting.
Hera Syndulla in all her glory
Hera Syndulla is making the jump into live-action in Ahsoka and this latest image from episode 3 shows the character in all her glory with Mary Elizabeth Winstead taking on the role.
Baylan Skoll and Shin Hati
And finally, the last of the new images gives us a fresh glance Star Wars' newest villains in episode 1, the Dark Jedi Baylan Skoll and his apprentice Shin Hati, played by the late Ray Stevenson and Ivanna Sakhno.
Quick guide to Ahsoka
Ahsoka will be arriving on Disney+ with a two-episode premiere on Wednesday, August 23, 2023.
The eight-episode series will then air weekly until the finale which is slated to release on October 4.
Set after the fall of the Empire, Ahsoka will follow the former Jedi Knight as she investigates an emerging threat to a vulnerable galaxy.
From her brief appearance in The Mandalorian, we know that she is hunting down Grand Admiral Thrawn, a fearsome foe who she brands in the Ahsoka trailer as "Heir to the Empire."
Ahsoka is scheduled to arrive on Disney+ on Wednesday, August 23, 2023.
Related Topics
Gaming Trailers
Trailers Are Currently Unavailable.