Star Wars may be one of the most beloved and successful film franchises in history but if it hopes to maintain that success, this writer believes that future projects shouldn't be afraid to push the boundaries in terms of genre and age rating.
As part of recent press events for their latest films, directors Zack Snyder and James Mangold have both discussed touted plans for Star Wars movies that would have leaned towards potential R-rated films had they been given the green light and while neither came to fruition, their comments have sparked debate among fans who feel that the franchise should be telling more diverse and adult-oriented stories, rather than clinging to typical family-friendly adventures.
Zack Snyder and James Mangold discuss touted plans
As part of a recent interview with Empire about his upcoming Netflix film, Rebel Moon, Zack Snyder revealed that the sci-fi movie began life as a pitch for a Star Wars project.
"It was Seven Samurai in space," he said. "And a Star Wars movie was my original concept for it. I knew that the origins for George [Lucas] were a lot of those Kurosawa films."
"The sale [of Lucasfilm to Disney] had just happened," continued the writer-director. "There was that window where, you know, who knows what's possible? I was like, 'I don't want any of your [existing Star Wars] characters. I don't want to do anything with any known characters, I just want to do my own thing on the side.' And originally I was like, 'It should be rated R!' That was almost a non-starter."
A decade after first suggesting the idea, Snyder has reworked his space opera into Rebel Moon, which is set to release in December 2022 – and is reported to be getting two versions, one more family-friendly and another leaning into a grittier R-rating.
James Mangold, meanwhile, has recently completed work on another Lucasfilm project, Indiana Jones and the Dial of Destiny, and while carrying out press for the film, the director disclosed that he was also working on a Star Wars project that would have leaned towards a higher age rating.
Before The Book of Boba Fett was announced, there were reports that the Logan writer and director was working on a movie focused on the helmeted bounty hunter, but these plans were shelved following the meager reception to Solo: A Star Wars Story.
Speaking on the Happy Sad Confused podcast, Mangold said of his potential Star Wars film: "At the point I was doing it I was probably scaring the s*** out of everyone. I was making much more of a borderline R-rated, single-planet spaghetti Western.
"They probably would never be able to embrace Baby Yoda if I had made that. It [Grogu] didn't really belong in the world I was kind of envisioning."
While Mangold may never have got to make his Boba Fett movie, he is currently slated to helm a new film that is set to explore the origins of the very first Jedi, set millennia before the events of the main Star Wars saga.
Star Wars is at its best when it explores its dark side
While Star Wars has never strayed too far away from its fun-filled adventures, the franchise has undoubtedly peaked when it has dared to explore its darker side.
The ultimate example has always been The Empire Strikes Back as it sees Luke and his Rebel comrades go on the run after suffering a series of defeats after triumphantly destroying the Death Star in A New Hope.
Revenge of the Sith follows a similar example as it charts Anakin Skywalker's fateful descent into darkness as he's corrupted by the dark side and becomes Darth Vader.
Rogue One, arguably the best of the Disney-era Star Wars films, is another movie that leans into heavier themes as all of its main characters are killed off in their efforts to steal the Death Star plans – and let's not forget THAT Darth Vader hallway scene.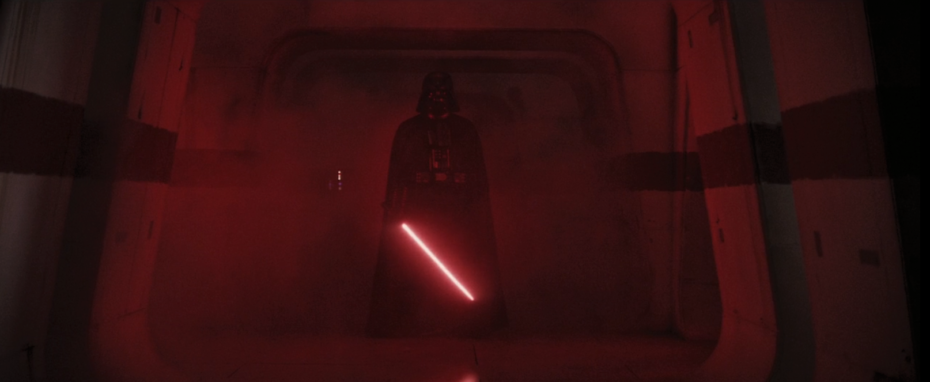 On the small screen, the Andor TV series has won plenty of praise from fans for its willingness to step away from the more fantastical elements of Star Wars and tell a more grounded story that isn't afraid of dealing with hard-hitting topics – heck, it very nearly included Star Wars's first f-bomb in Marva's funeral eulogy had writer Tony Gilroy gotten his way.
And most recently came Volume 2 of the Star Wars: Visions anthology series. The highlight of the second season, and arguably the show as a whole, was the episode Screecher's Reach. The animated short fully embraces the horror genre as its characters go in search of a terrifying ghost, inspired by the banshee from Irish folklore. It's been three months since this episode was released and this writer can't help but revisit it regularly, especially its mournful finale.
What we'd like to see from R-rated Star Wars
While we understand that Disney are never going to want to completely abandon the family-friendly nature of Star Wars – they need to sell Baby Yoda merchandise after all – surely there must be some wriggle room to tell more diverse stories within what is a galaxy of limitless possibilities.
Returning to James Mangold as an example, the director helmed 2017's Logan, a gritter take on the X-Men franchise and a film that is regarded as one of the best comic book movies of recent years.
The film followed almost 20 years of X-Men movies and served as an adult-focused story for fans who grew up with the X-Men films of the early 2000s.
DC have also not been scared of delving into their darker side either with the likes of 2019's Joker and 2022's The Batman becoming two of their most successful films of the past few years while targeting a primarily adult audience, although The Batman just scraped a PG-13 rating in the US.
In the case of Joker, the film had a budget in the region of $55-70 million, comparatively small for a superhero movie, and yet it went on to gross over $1 billion at the box office.
We're not necessarily asking for Star Wars to suddenly become filled with blood, gore and swear words but it is worth remembering that this is a franchise approaching its 50th birthday and not all of its fans are kids anymore.
Related Topics
Gaming Trailers