Tabletop players are still on a high from the first 2022 launch of Brilliant Stars and we're currently a few days away from Pokemon TCG Astral Radiance's release on May 27, 2022.
Up ahead, we list the best cards of the upcoming expansion and highlight the cards with the most eye-catching artwork.
Astral Radiance holds over 180 cards and features three brand-new Radiant Pokemon and 30 cards with special artwork in the Trainer Gallery. Astral Radiance will also house 21 V cards and two large VMAX cards with over 20 Trainer cards.
Most Expensive Cards in Pokemon TCG Astral Radiance
**All estimated prices have been taken from TCG Player at the time of writing**
Roxanne (Full Art) #188 – $33.81
Gardenia's Vigor (Full Art) #184 – $33.91
Darkrai VSTAR #099 – $36.76
Origin Forme Palkia VSTAR #040 – $38.15
Irida (Full Art) #186 – $67.82
Origin Forme Dialga V (Alternate Full Art) #177 – $139.12
Best Artwork
As usual, there are so many Full Art cards worthy of a few glances and we've narrowed down the best artwork of the upcoming set.
Temple of Sinnoh (Secret) #214 – $29.99
The first card in the best artwork pile goes to the Secret trainer card Temple of Sinnoh for its grandiose design that's reminiscent of Greek architecture.
Hisuian Sneasler V (Alternate Full Art) #175 – $19.99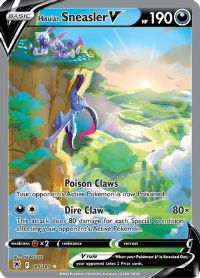 This Hisuian Alternate V has a special kind of artwork that draws you into the image for some much-needed escapism and is worthy of the best artwork list.
Hisuian Lilligant V (Alternate Full Art) #163 – $29.43
The second Hisuian Alternate V is Lilligant, posing alongside Spheal and Starly against a serene backdrop that's very easy on the eyes.
Origin Forme Palkia V (Alternate Full Art) #167 – $89.98
Palkia can be seen almost disguised in an abstract display of chess-like designs while flaunting an origin form in this stunning Alternate V.
Machamp V (Alternate Full Art) #172 – $53.63
Keeping in line with the food-themed Tyranitar from Battle Styles, this Machamp Alternate V has the four-armed 'Mon running errands in the most eye-catching card of the set.
By Jo Craig – [email protected]
Related Topics
Gaming Trailers