Pokemon TCG brings in the new year with the exciting new set, Crown Zenith, serving as the final special expansion within the Sword & Shield series, and we provide a list of all the secret rares with prices.
Crown Zenith offers over 230 cards with prints featured in the Japanese VSTAR Universe expansion, the VSTAR Special Set, the Paradigm Trigger expansion, and the Incandescene Arcana subset.
Furthermore, this expansion includes the classic full art and alternate art cards, as well as introducing new 'Art Rare' and 'Super Art Rare' categories.
Pokemon TCG Crown Zenith Release Date
Pokemon TCG Crown Zenith is scheduled to release on Friday, January 20, 2023.
Crown Zenith will include an Elite Trainer Box featuring Lucario on a black, red, and blue box, alongside supporting merch including booster boxes, collection boxes, five mini tins, and a 3-pack blister with Cinderace, Inteleon, and Rillaboom.
Crown Zenith secret rares – Art Rares
All prices for the Art Rares are currently sitting at a standard $4.95 on TCG Player, however, this is subject to change when the set releases.
Galarian Articuno, Zapdos, and Moltres are also on the Art Rare list.
Manaphy
Mew
Diancie
Absol
Altaria
Miltank
Ditto
Dunsparce
Bibarel
Oricorio
Lunatone
Solrock
Latias
Lapras
Hisuian Voltorb
Deoxys
Magnezone
Hisuian Goodra
Crown Zenith secret rares – Super Art Rare
**All estimated prices have been taken from TCG Player at the time of writing and are subject to change**
Zacian V $29.95
Zamazenta V $29.95
Lumineon V $29.95
Raikou V $99.95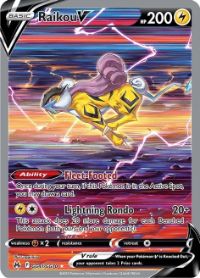 Suicune V $99.99
Entei V $29.95
Deoxys VMAX $99.94
Zeraora VMAX $29.95
Hatterene VMAX $29.95
Hatterene VMAX $39.94
Glaceon VSTAR $79.94
Simisear VSTAR $29.95
Leafeon VSTAR $59.98
Regigigas VSTAR $29.95
Mewtwo VSTAR $199.94
Charizard VSTAR $29.94
Hisuian Samurott VSTAR $29.95
Deoxys VSTAR $99.94
Zeraora VSTAR $29.95
Gardenia's Vigor $29.95
Cynthia's Ambition $149.94
Raihan $29.95
Irida $49.90
Adaman $29.95
By Jo Craig – [email protected]
Related Topics
Have something to tell us about this article?
Let us know
Gaming Trailers