With the release of the Ahsoka series getting ever closer, the second trailer for the show has finally landed but fans have been left puzzled as it's hinted that Sabine Wren is potentially Force-sensitive, something that we believe is a massive misdirect.
Star Wars has never shied away from dramatic reveals, it does boast the most iconic revelation in all of cinematic history after all, but the possibility that Sabine has Force powers in the upcoming Disney+ series seems to be a step too far, especially if you've followed her journey throughout Star Wars Rebels.
Ahsoka trailer hints at Sabine Wren being Force-sensitive
The latest trailer for the Ahsoka series features several moments that tease the possibility that Sabine Wren has developed a sensitivity to the Force since we last saw her in the Rebels finale.
In a tense reunion between Sabine and Ahsoka, we learn that the former Jedi once attempted to train the young Mandalorian and even served as her master, which Sabine reveals in a tone of utter disdain.
That's not all as later in the trailer, we see Sabine wielding a green lightsaber while fighting the Dark Jedi Shin Hati and in the same fight, Sabine raises her hand as if she's trying to use the Force, to which Shin remarks that she has "no power."
And finally, the trailer also shows Sabine watching holo-messages from the missing Jedi Ezra Bridger, who seems to be giving advice on the ways of the Jedi.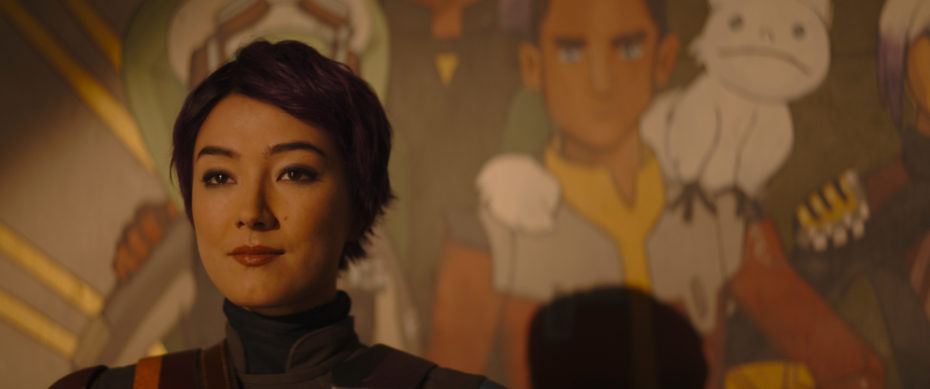 Why Sabine's 'Force powers' are almost certainly a misdirect
While the Ahsoka trailer does offer hints at Sabine having Force powers, it's worth remembering that throughout Star Wars Rebels, she never once showed any signs of being Force-sensitive.
So unless she has recently discovered some previously untapped powers in the years since Rebels finished, the trailer teases are almost certainly a misdirection.
Don't forget that The Force Awakens' marketing and trailers did something similar as it was heavily hinted that Finn would become a stormtrooper-turned-Jedi. Instead, it was Rey who became the central Jedi of the sequel trilogy.
Beyond Sabine's past in Rebels, there are some easy ways to explain away the hints too.
In the case of Ahsoka being her master, it's entirely possible that the former Jedi was simply furthering Sabine's training in lightsaber combat after she took possession of Ezra's lightsaber in the Rebels finale.
One of Sabine's most pivotal episodes in Rebels saw Kanan Jarrus training her to use the Darksaber, the weapon that features heavily in The Mandalorian, and so Ahsoka training her is likely an extension of that to prepare her for any threats they might face in their quest to find Ezra.
Even though Sabine may not have Force powers, her Mandalorian armor has been specifically designed to combat the abilities of a Jedi and so her training could also have been a way of teaching her how best to use her suit's weaponry, such as its grapple, to fight Force-wielding enemies.
This could easily be what Sabine is doing as she raises her hand in the trailer as she could be preparing to clench her fist and use one of her suit's gadgets rather than using the Force.
And of course, Sabine watching holo-videos of Ezra can be explained as a way of showing the audience that she misses him. Throughout Star Wars Rebels, she and Ezra were shown as close friends but there was always a slight hint that there could have been something more to their relationship.
Ahsoka is scheduled to arrive on Disney+ on Wednesday, August 23, 2023.
Related Topics
Gaming Trailers
Trailers Are Currently Unavailable.