DC's Blue Beetle may not feature members of the Justice League (yet) or flaunt an abundance of big-name actors, but the trailer delivered a silver-screen-ready showstopper and we explore the movie's budget, its move from HBO, and the cast involved.
Fans of the popular video game series, Final Fantasy, thought Blue Beetle's end sequence featured a buster sword – similar to the weapon wielded by the protagonist, Cloud Strife.
Directed by Angel Manuel Soto with a screenplay by Gareth Dunnet-Alcocer, the superhero movie, Blue Beetle, is based on the DC Comics character of the same name, following college graduate, Jaime Reyes, who comes to possess a Scarab relic of foreign biotechnology that grants him the powers of the titular mantle.
What is the Blue Beetle movie's budget?
As confirmed by IMDB, the Blue Beetle movie's budget is estimated to be around $120,000,000 USD (approximately £96,061,680.00 GBP).
If you compare that to the budget of Zack Snyder's Justice League, which was $300,000,00, and this year's Aquaman and the Lost Kingdom, coming in at $205,000,000, the difference is not that much.
Both of those films harnessed a surplus of CGI effects to create the final product, and while Blue Beetle will have its fair share, it certainly doesn't present as many computer-generated images.
Blue Beetle's release platform was originally HBO
Warner Bros. Pictures and DC Films began developing the Blue Beetle movie back in November 2018, focusing on presenting the first Latino lead in a DCEU project.
It was later decided in 2020 that DC Films was going to tailor a number of mid-budget films for the streaming platform, HBO Max, substituting a theatre release, and Blue Beetle was one of them.
However, in 2021 it was announced by Warner Bros. that Blue Beetle would be getting a theatrical release after all, which speaks volumes about the company's confidence in the project.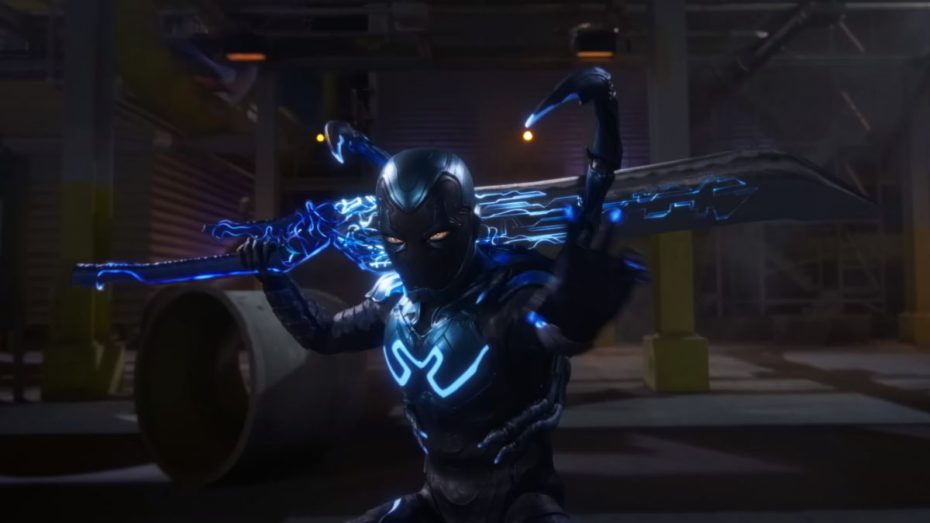 Meet the Blue Beetle cast
Xolo Maridueña from Cobra Kai fame is starring in the lead role, alongside veteran actor, George Lopez.
Susan Sarandon will be playing the movie's main antagonist, Victoria Kord, alongside Raoul Max Trujillo's Conrad Carapax.
Below, we have included the full list of actors performing in the Blue Beetle movie:
Xolo Maridueña – Jaime Reyes / Blue Beetle
Adriana Barraza – Nana
Damián Alcázar – Alberto Reyes
Elpidia Carrillo – Rocio Reyes
Bruna Marquezine – Jenny Kord
Raoul Max Trujillo – Carapax the Indestructible Man
Susan Sarandon – Victoria Kord
George Lopez – Rudy
Belissa Escobedo – Milagro Reyes
Harvey Guillén – Dr. Sanchez
By Jo Craig – [email protected]
Blue Beetle will be released in theatres on August 18, 2023.
Related Topics
Have something to tell us about this article?
Let us know
Gaming Trailers